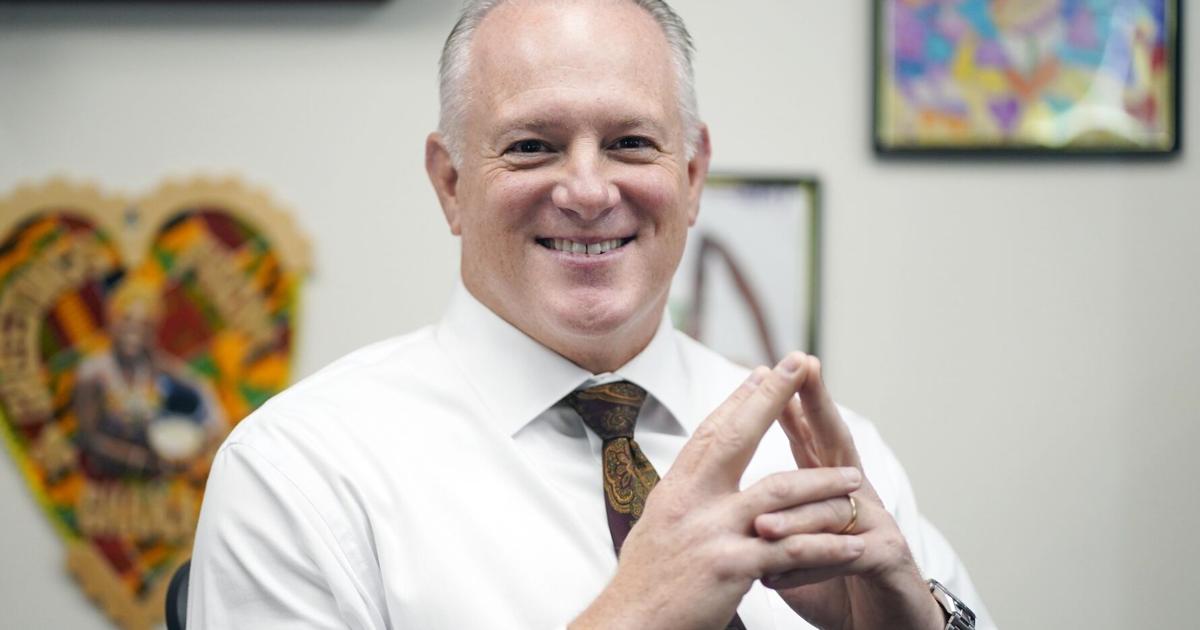 25 years ago, Shaun Cusson took a temporary job as a counselor at Hillcrest Education Centers. He is now President and CEO | Company
PITTSFIELD — Shaun Cusson was looking for a job, not a career, when he accepted a position as a youth development counselor at Hillcrest Education Centers in 1997.
But what Cusson had first thought was a way station turned out to be very different from what he thought. The Pittsfield native enjoyed working at Hillcrest so much that he stayed and rose through the ranks of the company. He has held eight positions at the Hillcrest Educational Foundation, the nonprofit agency's umbrella organization, over the past 25 years. In 2013, he was promoted to Executive Director, second in command behind President and CEO Gerard "Jerry" Burke. On July 1, he officially became chairman and CEO of Hillcrest when Burke retired after a 37-year career there, including 30 as chairman and CEO.
We recently spoke to Cusson about taking over first place at Hillcrest, his plans for the nonprofit agency, how the agency is dealing with workforce development issues that affected other Berkshire businesses and why he didn't pursue a musical career like his brother, singer Matt Cusson, or his father, Craig Cusson, who wrote the school song for Berkshire Community College.
Q: How does a marketing student end up in a career in social services and education?
A: I graduated from Westfield State with a degree in business administration and marketing. I knew I had to buy a new car and I needed health insurance. I knew someone who worked at Hillcrest who suggested I take a chance because it would be a fun job, I could earn a lot of money and spend time with kids. I thought that job was a pretty good job for about six months before I got a real job.
Q: Obviously you didn't think of Hillcrest as a career then.
A: Not at all. I wanted to get into marketing and advertising for a big company. It was kind of my goal in college. (Cusson went on to earn a master's degree in education from Cambridge College.)
Q: What made you change your mind?
A: I loved the job. I was not very good at the beginning. It took time. I was taught by good people, got it, really enjoyed it, and stuck with it for a while. I still tried to leave a few times without thinking that I was not made for this job. But I was very lucky to be in the right place at the right time and to have opportunities that I took full advantage of and continued to be promoted through the system. In doing so, I really developed an incredible admiration and appreciation for the people I worked with.
There is something about the people at Hillcrest, the work they do with our children, the miracles they are capable of, that really made me want to do whatever I could to serve them. It's what gets me up in the morning. That's what keeps me incredibly energized for our work. I see it as my job to do everything I can to create an environment that allows our staff to do what they do best.
Q: Jerry Burke was so well known in the Berkshire community that every time you saw him you thought of Hillcrest. How do you replace a guy like that?
A: There is absolutely no replacement for Jerry Burke. What he's done, what he's achieved in his career here, it's almost unfathomable, that's the word I use. It is beyond humble beginnings. When he started at Hillcrest in 1985 they were completely gone. They had lost their license to treat people and they were bankrupt. Jerry, in his three decades as CEO, has just grown and grown the organization that thrives today and has been incredibly successful.
If I had in mind that I had to replace him, I would fail. What Jerry instilled in me and everyone else is that you have to lead based on who you are. And you have to be you. That's the only way for it to work. Luckily for me and the organization, Jerry and I are pretty close to how we run Hillcrest and what we think are the priorities.
Q: What are your goals and plans for Hillcrest in your first year as President/CEO?
A: For the first year, it's quite simple. He's trying to spin this big wheel. We are not off the hook when it comes to COVID. We are always struggling to ensure that our precautions are robust so that when people, staff or children are exposed, we respond accordingly. We do our best to keep people safe. It is not easy.
As you all know [Berkshire County] workforce continues to be a significant issue for employers in all sectors. So there's a labor crisis right now and Hillcrest is very involved in that. My main focus this year is that we need to achieve a balance where we can sustain the operation without relying on state and/or federal support.
Q: Is your membership down?
A: We have approximately 475 employees just under Hillcrest Education Centers. We also have our dental office and we have Kids' Place. But just for Hillcrest Education Centers, we have about 475 right now. To reach our full capacity of students, we would need about 540 or 550.
We have made significant improvements to the compensation of our staff at all levels, which has enabled us to strengthen our recruitment, our retention. We are making progress, but it is gradual and measured progress. We are only halfway there.
Q: How have labor issues in the Berkshires affected Hillcrest?
A: If I could answer that question precisely, I could write the best-selling book in the world. We are all confused as to where the employees are. It doesn't matter if you're in banking or the restaurant industry, or social services or education. We don't know where the workers went.
It's not just a Berkshire county phenomenon either. I speak with my peers in Eastern Massachusetts and they are struggling with absolutely the same issues. We blamed it on the huge government support for people out of work and people who were becoming dependent on that help. There was a small change when it ended last September, but that's clearly not the point.
Q: So what is it?
A: I think people got stuck. The incredible cost of child care has made it unaffordable for single parents or young families to have dual income households, but beyond that the pendulum has just swung completely in the opposite direction from there decades old. I don't know what makes this pendulum swing back, but we are all convinced that it will swing back in time. Right now we kind of compete with each other as employers for the same employees. We think our recruiting has improved somewhat, but it has cost us a lot in payroll to deal with it.
Q: Why didn't you follow your father and brother into music?
A: Lack of talent. We had a piano at home and I liked to tap on it, but unfortunately it just wasn't intended for me. … I dabbled in the trumpet when I was young, but I was just more interested in sports. The pursuit of music takes discipline. I wanted to go out with my friends who were doing sports. Would love to go back and work a little harder for sure.
Q: What does your professional future look like?
A: Whatever the future, it will end in Hillcrest, there is no doubt about it. I am sentenced to life. This is the first job I had after college and it will be the last job I have when I retire, God willing.