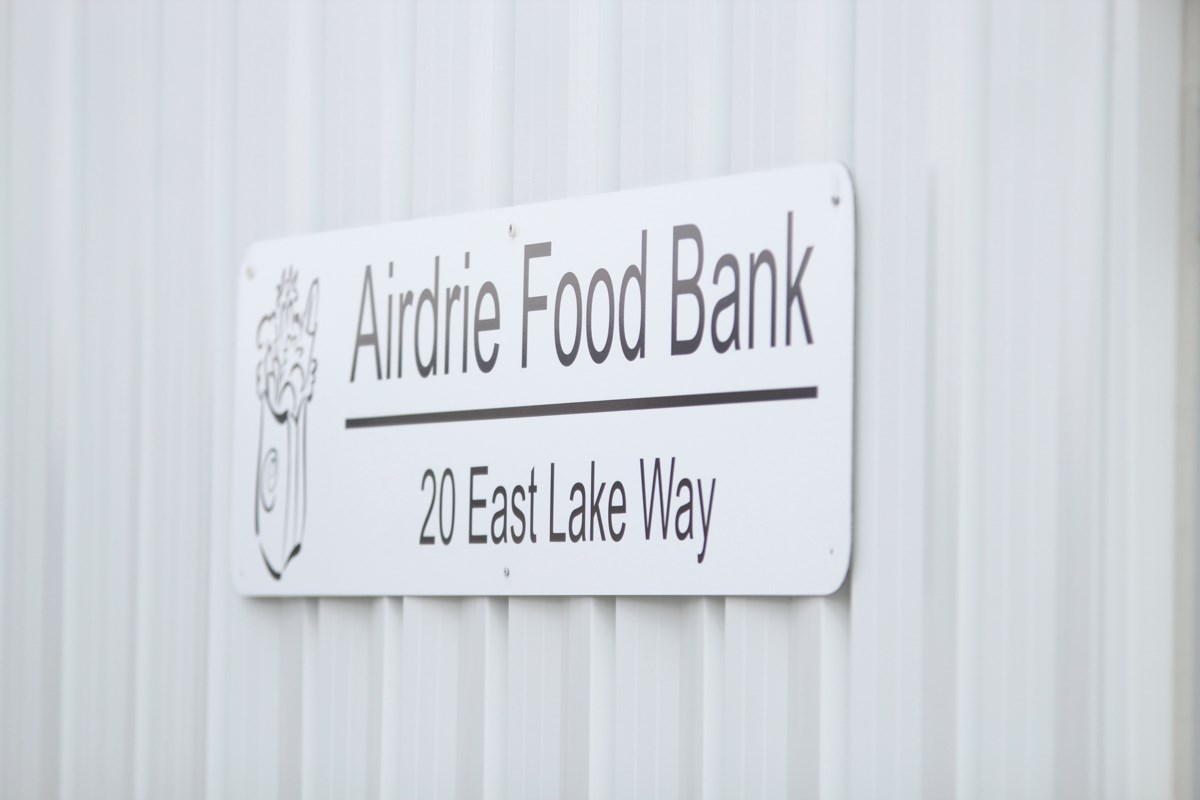 Airdrie Food Bank hopes to raise awareness through marketing campaign
Airdrie Food Bank hopes to increase awareness of its programs and dispel some myths surrounding its operations with an upcoming advertising and social media campaign.
Airdrie Food Bank hopes to increase awareness of its programs and dispel some myths surrounding its operations with an upcoming advertising and social media campaign.
According to Lori McRitchie, executive director of Airdrie Food Bank, the charity – a nonprofit that fights food insecurity in Airdrie and surrounding communities – has heard feedback from the community that there is misconceptions about what the food bank is and how it works.
"Some people think that you can only come here three times a year and that we only give Kraft Dinner and canned soup, that we only give a little and that the food we give is outdated. [its expiration date]," she said.
"We want to address any issues or concerns people have about the way we really work. "
The awareness campaign is expected to run for three weeks via social media and print ads.
The first of three weeks will include information about the food bank's internal programs, while the second week will look at the organization's external and outreach programs. The third week will focus on the food bank's partnerships and collaborations with other organizations in the community.
McRitchie added through the campaign, the organization hopes to provide information to the public to eliminate some felt hesitation about the food bank, lack of knowledge about its operations, or stigma felt about its customers.
"The foundation of all the work we do as a food bank is that we facilitate goodwill in our community," she said. "We have made it known that there are people in need and the community is engaging and helping people – we facilitate that. "
She added that in the past, when more people lived in rural communities, neighbors usually knew each other better and it was common to attend the same churches and community groups. She argued that the abandonment of this way of life has led to a lack of knowledge who are the vulnerable people in the community.
"[The food bank] it's like the neighbors of old where you knew someone [who] was in trouble, you knew someone had lost their job or had a baby, and you would feed them meals, "she said. "Food banks have stepped up and are now filling this gap. "
McRitchie added that in every community of Airdrie there are people who are struggling with food insecurity, and the food bank is stepping up in each of those communities to meet their needs.
"We find that people come once or twice for a while, then they turn around and get stronger, and then they're the ones who will put a can in the grocery store," she said. "It's an effort of the whole community to take care of each other. "
She added that since many government financial support COVID-19 programs have declined, the food bank has noticed an increase in the number of people who need support.
As the holiday season approaches, McRitchie said the Airdrie food bank is "busier right now than we've ever been."
"There are other agencies in the community that have supported in the past that are not able to be as nimble as we are," she said.
"They haven't been able to change and change the way they operate to meet COVID-19 restrictions and requirements – we continue to be able to support our community because our community supports us."
McRitchie noted that December is generally the busiest food bank month for request and donation, but added that the awareness campaign is not about asking for community support in this regard.
"[This] it is not a question of asking us anything. We're not looking for help, we're not asking for food donations, we just want to tell people what we're doing, "she said, adding that community members interested in volunteering are still in high demand.
"If you want a tour or see how we do things, you can give us a call. We are available and open for business and willing to work with our community in many ways because it really is about [Airdronians] take care of each other.
McRitchie added that the food bank's basket program is open to beneficiaries once every 30 days, and one basket contains seven to ten days of food from each food group. The basket consists of approximately 40 to 45 percent fresh food, with non-perishable items filling the rest of the basket.
Additionally, the Food Bank's Pantry Program is a walk-in program where community members can stop during business hours to access food items. The food bank also offers a food collection program involving approximately 70 pickups per week from various local businesses.
"You can come when we are open, no questions asked, [besides] your first name and how many are in your family, "said McRitchie.
"You can use the items available through this program. "
She added that the food bank is proud to partner with other community agencies and serve a wide range of communities in northern Rocky View County including Crossfield, Madden, Kathyrn, Irricana and Beiseker.
"We're trying to reach out through our collaborations and partnerships to make sure that no one in Airdrie and the region goes hungry," she said.
Carmen Cundy, AirdrieToday.com
Follow me on twitter @carmenrcundy