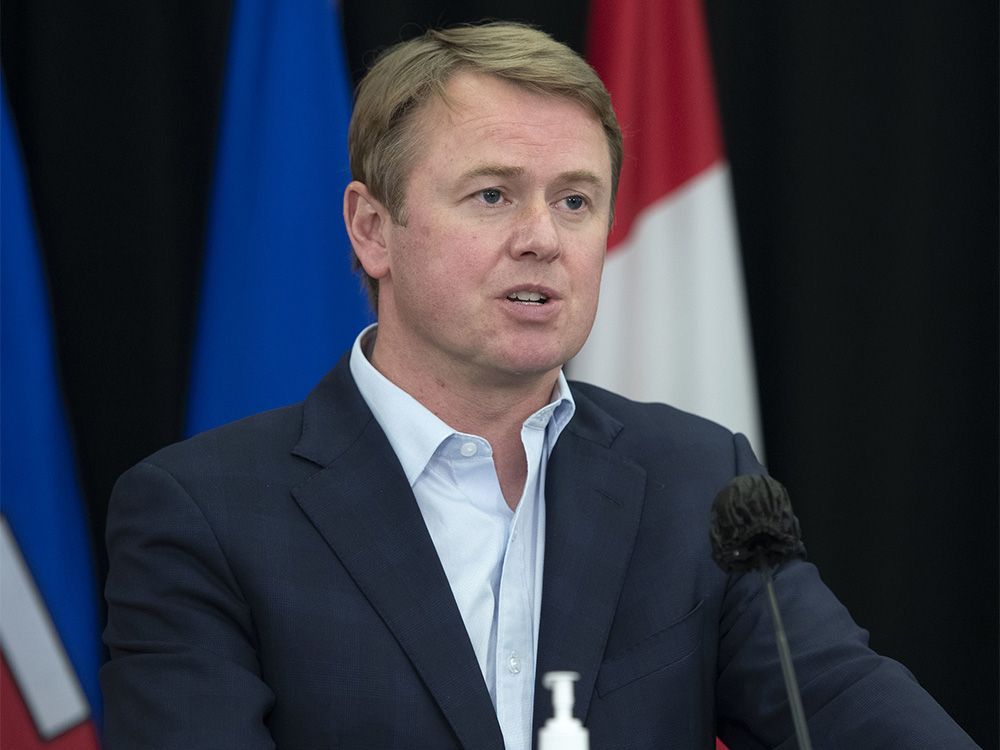 Alberta justice minister calls on human rights commission chair to resign
Content of the article
Justice Minister Tyler Shandro has called on the head of the Alberta Human Rights Commission to resign after more than two dozen Muslim organizations and mosques signed a public letter calling for action .
Content of the article
Calgary lawyer Collin May began his five-year term as head of the Commission and Tribunals on July 14, but had previously come under fire from critics who said a book review written by May in 2009 was Islamophobic.
Content of the article
On Monday, the National Council of Canadian Muslims (NCCM) issued a letter calling on Shandro to take action, alleging that May avoided offers to meet with community leaders and issued letters threatening to sue anonymous critics.
Joseph Dow, Shandro's publicist, said in a statement that once Shandro received the NCCM letter, he demanded an explanation from May.
"After reviewing the explanation, Minister Shandro has requested Mr. May's resignation," Dow wrote.
The dismissal came after a series of tweets on Monday from the NCCM, which also called the book review "deeply problematic", and as Muslims in Alberta have recently faced a wave of physical and verbal attacks, including at least nine attacks reported to Edmonton police in the six months of 2021.
Content of the article
Monday's letter, signed by 28 community organizations and mosques in the province, noted that when the book review was first published, May pledged to engage with the province's Muslim community.
"May has not prioritized scheduling these meetings, but more importantly, has decided to threaten to sue his critics. This behavior cannot be tolerated by the chairman of the United Nations Human Rights Commission. 'Alberta,' he said.
Content of the article
Said Omar, Alberta advocacy officer for the NCCM, told Postmedia that the book May reviewed contains stereotypical and Islamophobic views.
"We have received many calls from members of the Muslim community who are honestly shocked and appalled that Mr. May is reviewing this book favorably," he said, adding that it is another example of why the minority communities lose faith in institutions.
"Many members of the community were at a loss for words – they don't understand how they could trust this institution if they needed it," he said.
First reported by left-leaning media organization The Progress Report, May's review of historian Efraim Karsh's book Islamic Imperialism: A History underscores Karsh's argument that Islam is inherently combative.
Content of the article
"(Karsh) challenges the multicultural illusion of peaceful Islam and gets to the heart of the matter. Islam is not a peaceful religion hijacked by radicals. Rather, it is one of the most militaristic religions known to man, and it is precisely this militaristic heritage that informs the actions of radicals across the Muslim world," May wrote in the review.
May didn't immediately provide a statement to Postmedia on Monday, but in a July statement, May said her review agreed with some of the book's claims but rejected others.
"I want to make it clear that I do not believe in or accept the characterization of Islam as a religion or a militant movement, especially in light of recent and diverse significant scholarship that strives to overcome conventional wisdom. misconceptions about Muslim history and philosophy. I specifically want to affirm that Muslim Albertans are entitled to full and equal respect accorded to all of our communities," he wrote.
Content of the article
Earlier Monday, NDP Justice Critic Irfan Sabir said in a statement that the views expressed by May in the book review "Perpetuating Hate", calling on Shandro to remove May from the Commission on Human Rights.
UCP leadership hopeful Rajan Sawhney previously called for an investigation into May's nomination, but in a tweet on Monday quoting the letter from the NCCM side.
"Important reading. And I agree," she wrote.
Content of the article
Leadership candidate Leela Aheer also spoke out as she retweeted the NCCM letter, saying "it is imperative that all communities feel safe and supported by their government institutions."