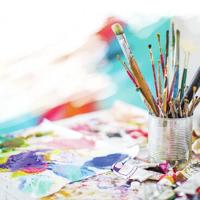 Art Notes | News | currypilot.com
Violinists Fritz Gearhart and Anthea Kreston perform a classical music concert featuring violin duos from the past 300 years on Saturday, February 26 at 2 p.m. at Roque Playhouse, 94196 W. Moore St., Gold Beach. Tickets are $15 for adults (under 18s are free) and are available at the door or online through Eventbrite. For more information, visit redfishmusicfestival.com.
Extension of the art exhibition "The way I felt"
DNACA's Art in Public Places program features "The Way I Felt" by artist Emmaline (Mary Baker), which was featured in DNACA's 30th Annual Art Show. Emmaline's award-winning art is created with a unique felting process to create bold and colorful images. The exhibit has been extended through January 27 at the 2nd Floor Mezzanine of CEC Airport at 1650 Dale Rupert Road, Crescent City. The exhibition can be seen during the opening hours of the airport terminal: from 6 am to 8 pm on weekdays, from 6 am to 10 am and from 5 pm to 8 pm on Saturdays and from 6 am to 2 pm and from 5 pm to 8 pm on Sundays. For more information, contact DNACA at 707-464-1336 or [email protected]
DNACA 40th Anniversary Performance Series Season Tickets
There's still time to purchase season tickets for the Del Norte Association for Cultural Awareness series of shows. When you purchase a subscription, you get seats to all of DNACA's season concerts, featuring live performances from a wide variety of world-class artists, including blues and soul, world music/ dance/storytelling, vintage jazz and comedy, hypnotic tango and dance, and a comedian "seated" at the piano. Tickets and information about each concert are available at dnaca.eventbrite.com.
The Brian Scott Gallery, located at 515 Chetco Ave. at Brookings, features multiple artists and art forms including jewelry, pottery, bags, sculpture, cards, oils, acrylics, and watercolors. Gallery hours are Thursday through Saturday, 11 a.m. to 3 p.m. For more information, call 541-412-8687.
Located in Wright's Custom Framing and Art Supply, 810 Chetco Ave. Brookings, the gallery features 36 local artists in a variety of mediums and a classroom to inspire new and seasoned artists with workshops. Come and discover all the novelties of the gallery, open from 10 a.m. to 5 p.m. from Monday to Friday, from 10 a.m. to 3 p.m. on Saturday. For more information on class offerings, painting demos and artists, call 541-469-7900 or visit them on Facebook @WrightsCustomFraming.
Manley Art Center and Gallery
Manley Art Center and Gallery is located at 433 Oak St. in Brookings. Gallery hours are Wednesdays 11 a.m. to 4 p.m. and Thursday through Saturday 11 a.m. to 3 p.m. For more information, call 541-469-1807 or visit www.manleyartcenter.com.
For Community Arts Calendar listings, please visit www.dnaca.net. To be included in the art scene lists, articles must be sent to the Del Norte Association for Cultural Awareness (DNACA) at [email protected] by Friday of each week.