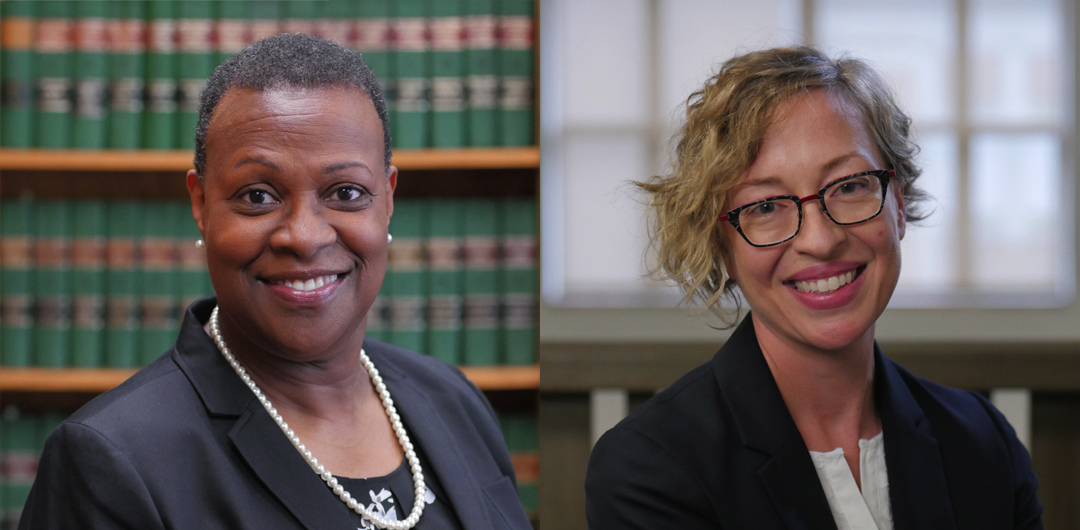 Asheville City Manager announces hiring of two key manager positions
Acting Director of Equity and Inclusion, Brenda Mills, and Acting Director of Community and Economic Development, Nikki Reid, have both been promoted to Permanent Director for their respective departments.
After a nationwide search, Asheville City Manager Debra Campbell found the talent and passion for public service she was looking for to fill two important leadership positions within the city staff. No need to orient someone new to the community or explain upcoming challenges – they already know that.
After being appointed Acting Director of Equity and Inclusion in July, Brenda Mills will now become the official Director of the Office of Equity and Inclusion. Meanwhile, former Director of Economic Development Nikki Reid, who served as Acting Director of Community and Economic Development after Sam Powers retired in February, will now assume that director position.
"I am delighted to announce the promotions of Nikki Reid and Brenda Mills," said Campbell. "These two employees are experienced public servants who have enjoyed success in the City of Asheville. They're not just ready to roll up their sleeves and get down to business, they're already in the trenches getting the job done.
Director of Equity and Inclusion Brenda Mills
Brenda Mills has been an invaluable resource for the City of Asheville for 16 years, with over 31 years of experience in local government. Before his interim Mission of Equity and Inclusion Director, Mills has served as the Neighborhood and Community Engagement Manager for the City's Communications and Public Engagement Department since 2017. In this role, she has worked to build community capacity for effective engagement in local government. She cultivated communication networks with neighborhood associations and community groups and served as a link with the City.
Prior to that, she held the position of Economic Development Specialist for the Community and Economic Development Department, where she headed the city's Minority Affairs Program. In this role, she has focused on outreach, education and public procurement support for small businesses, minorities and women, working directly with municipal departments on compliance and awareness of business plans. minorities. In 2019, she led the completion of the Disparity study, which provided for the next steps of the new Business inclusion program.
Now as director of the Office of Equity and Inclusion, Mills is not only responsible for hiring new staff, but also overseeing the city's repairs initiative, a major business. Mills and the Equity and Inclusion Office will work with a future Community Repairs Commission to explore what reparations might look like in Asheville and ultimately make recommendations to City Council for implementation. Project management services provided by TEQuity will help in the 24 month project. Learn more about the Repairs initiative on this link.
"I'm really engaged, excited and ready to take on this new role," Mills said. "I know firsthand that the City and our staff are committed to fairness and that we are ready to do the job. I am honored to be part of the next step in our journey to fairness. "
Mills holds a Bachelor of Science degree from the University of North Carolina at Chapel Hill and a Masters of Public Affairs from Western Carolina University. She has held many volunteer positions on local boards, including United Way of Asheville-Buncombe County (2002-2014), Helpmate Board of Directors (2010-2015), Board of Trustees of the Manna Food Bank (2005-2007), of the YWCA Board of Trustees (2004-2007) and The NC Arboretum Society (2018-2021). She is a long-time volunteer for Dr. Martin Luther King Jr.'s annual breakfast.
Director of Community and Economic Development Nikki Reid
During her more than 13 years with the City, Nikki Reid led several major projects, including the acquisition of land for the new Broadway Fire Hall; the rental and sale of a city-owned underdeveloped property to White Labs Inc. (a yeast manufacturing company) for its head office on the east coast; and the creation of an implementation policy to create affordable housing on City-owned land. During her tenure as director of the city's real estate program, she also notably led the acquisition of the rights-of-way and greenways necessary for the transformation of the River Arts District thanks to the infrastructure investments of the River Arts District Transportation Improvement Project (RADTIP). .
Most recently, Reid was instrumental in working with the Community Development Division to lead the City's efforts to purchase a 100+ bed non-collective emergency shelter as a key part of the city's response. City to increasing homelessness caused by COVID-19.
Reid also guided staff through an equity-based process to lease municipal property at 8 River Arts Place, which helped attract a new tenant known as Black Wall Street AVL, which will serve as a hub for more than 50 local businesses of color.
"I am deeply grateful for the opportunities I have had in my career with the City of Asheville," said Reid. "We have a great team within the Community and Economic Development Department and, as Director, I look forward to working with this team in the service of our community. "
A native of western North Carolina, Reid holds a Bachelor of Science degree from the University of North Carolina at Asheville and a Municipal and County Administration Certificate from the UNC School of Government. She is a Chartered Real Estate Broker, member of the Urban Land Institute, the North Carolina Economic Development Association, the Southern Economic Development Council and the International Economic Development Council. She is a past chair of the Madison County Arts Council and served on the 2017 United Way of Asheville and Buncombe County Community Investment Committee.
Please join us in congratulating Brenda Mills and Nikki Reid on their new roles as directors at the City of Asheville!