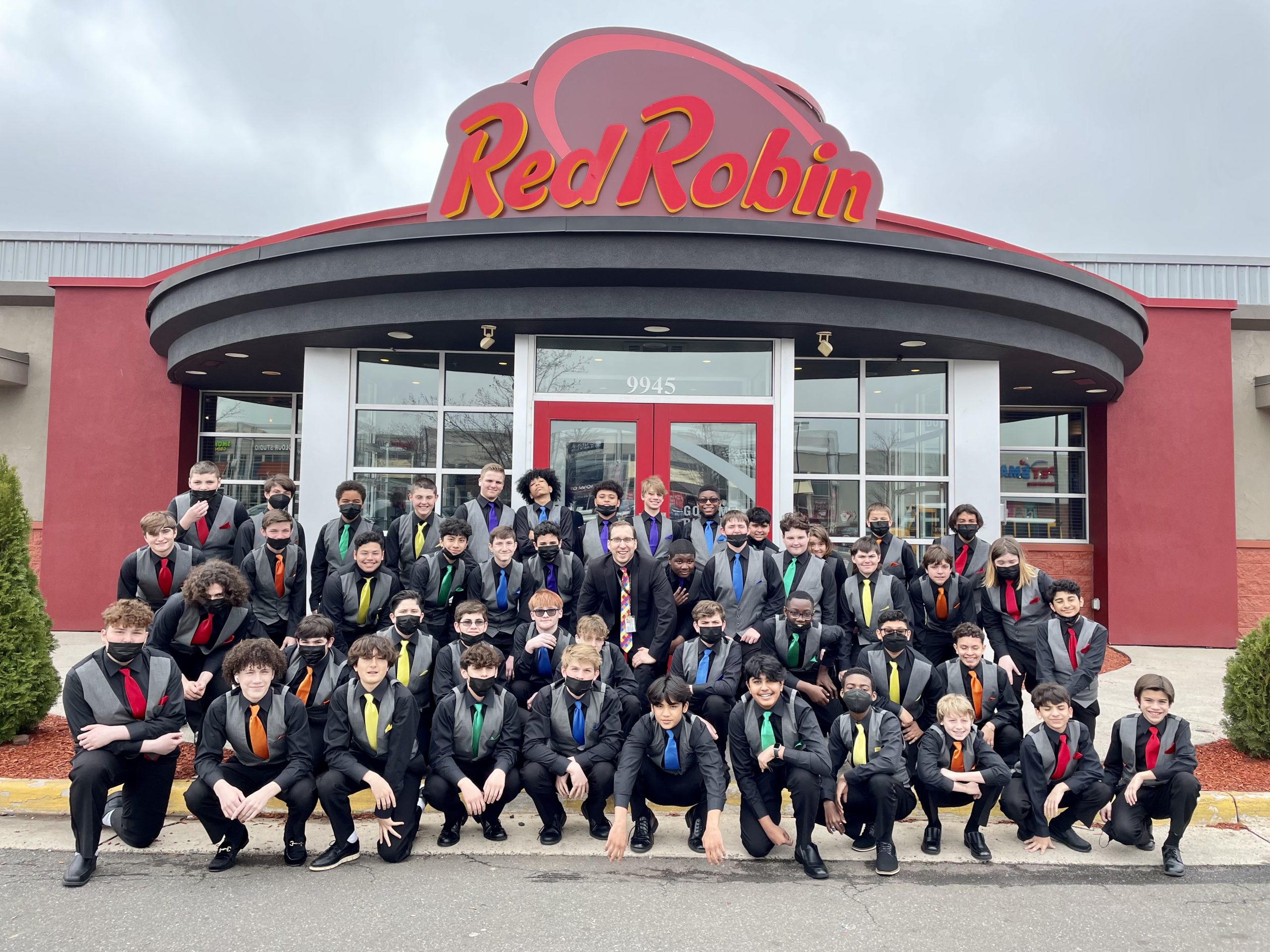 Choral programs in Prince William: making a lifelong impact on young people in our region
Like this article ? Support us by registering here. Your donation will help us continue to provide quality of life insights and enable local impact.
By Amy Falkofske
The famous Italian opera singer Lucian Pavarotti once said, "If children are not introduced to music from an early age, I believe that something fundamental is actually taken away from them. By taking a look at the youth choir programs in the Greater Prince William area, you can definitely see all the wonderful things that young people in the area get out of their participation in music.
The Grand Manassas Children's Choir
The Greater Manassas Children's Choir began seven years ago when the Manassas Chorale and its artistic director, Becky Verner, decided to start a children's choir. The GMCC consists of two choirs, Younger Choir for students in grades 2-4 and Older Choir for students in grades 5-8. Verner conducts the Older Choir.
"Our choirs are diverse in terms of singers and come from a variety of school and school backgrounds. Interested singers do a simple voice test before or after their first rehearsal by singing 'Happy Birthday' for us up and down," Verner said.
GMCC begins its year in September and gives its first concert at the beginning of December. Later in the month, the children share their music with residents of local assisted living facilities. They start learning new music in January and perform two spring concerts, one in May and one in June.
This year's May Concert took place on May 1 and was all about seizing the day and being kind. This month, GMCC will perform with the Manassas Chorale at Hylton Center in a concert titled "Yesterday, Today and Tomorrow." Visit manassaschorale.org for more information.
Manassas Park High School
"The MPHS Choir program aims to provide comprehensive training in choral music to all interested singers. Ensembles provide stimulating musical education opportunities for all levels of singers," said Kristina Schenck, Chorus Director at MPHS.
MPHS has two choirs that meet during the first semester, Bella Voce, a treble choir, and MP singers, a bass choir. Concert Choir, a mixed ensemble of soprano, alto, treble, and bass singers, meets during the second semester and builds on the skills learned in the first semester. Chamber Singers is for singers
who sing a more advanced repertoire. It meets both semesters.
Osbourn Park Secondary School
Although Osbourn Park is a center for biotechnology, the school has a strong music program. Dominick Izzo is one of the school's four music directors and is the director of choral music. There are five choirs at Osbourn Park, Bella Voce for high vocals and Fella Jackets for bass vocals. These two choirs are intended for first-year students. Older students can audition for one of three selected ensembles, Cantus, an advanced treble choir, Concert Choir, an advanced mixed choir, and Madrigals, the school's top chamber choir.
"We are continually recognized as a 'Blue Ribbon School for Musical Excellence in Virginia' based on our state performance evaluation scores," said Izzo.
Additionally, the Osbourn Park Choral Program performs regularly for football games, ceremonies, Christmas tree lightings, and other community events. Each year, they also team up with Brentsville and Patriot High Schools to host a Messiah sing-a-long at Hylton Center.
Marsteller College
Phillip Keirstead has been one of two choir directors at Marsteller Middle School for 15 years. He co-teach with Julie Phelan, who is in her 17th year at Marsteller. Prince William County Public Schools requires a performance-based music course in grades 6 and 7. Keirstead and Phelan work on the same skills and music with their classes and combine them when preparing for gigs.
"In 7th grade, we separate high-pitched voices, usually girls, from low-pitched voices, usually boys. This allows us to respond directly to the individual needs of the teenage voice, especially the changing male voice. In grade 8, playing music becomes a choice, and we usually have about 2/3 in grades 7-8. We are also keeping grades split into 8th grade," Keirstead said.
Woodbridge Secondary School
Khanner Hancock is choir director at Woodbridge Middle School.
"The choral program at Woodbridge Middle School includes three levels of musical development: beginner, intermediate and advanced. The mission of the program is to give each student the tools to become proficient musicians while developing character and citizenship," Hancock said.
Incredible Achievements
Each of these choral groups has an impressive list of musical accomplishments that set them apart from the crowd.
The Osbourn Park choirs "consistently receive top marks when assessing the condition," Izzo said.
"In 2019, Madrigals was selected to sing in the Virginia Music Educators Conference, which is tantamount to winning the state championship in sports. It was the first time the band had been selected to perform at the conference since the school opened in 1975," he said.
Marsteller's choral program was transformed after Keirstead's arrival on the scene.
"Most colleges struggle to hire male students. Singing in a choir isn't always considered the coolest thing to do. My freshman year at Marsteller, there were 11 boys in the 8th grade choir. My second year, there were 55, and by my third, it was up to 75. Julie and I were creating a culture where singing wasn't just a cool thing to do; it was THE thing to do at Marsteller," he said.
Keirstead took the 8th grade men's choir with him to the Virginia Music Educators Association state conference in Norfolk in 2011 and gave a presentation on the steps he has taken to develop the choir program at Marsteller . The presentation was a resounding success, so he recreated it in Jacksonville, Florida in 2014, in Boston in 2016, and at the American Choral Directors Association regional conferences in Mobile, Alabama in 2020.
The achievement Schenck is most proud of at the MPHS is that the singing didn't stop during the virtual learning year.
"COVID, of course, had a big impact on teaching and learning, but instead of letting that stop us, we kept singing! My students sang with me online and we performed four virtual concerts throughout the 20-21 school year," she said.
"On Friday, March 18, we had the opportunity to witness our first district choir evaluation since 2019. The concert choir and chamber singers both competed and received top marks on their performance from of every judge!" Schenck said.
At Woodbridge Middle School, Hancock said she was very proud of how her students have come out on the other side of virtual learning.
"As a proud alumnus and now director of the choral program at Woodbridge Middle School, the greatest achievement has been the ability to adapt to the virtual environment for the continued development of musicality and ultimately returning to the stage. after almost two years without being together in song. They faced the various adversities of life during the pandemic to encourage others with their interpretation and understanding of each song. It makes my heart smile to see my students lost
in music," she said.
GMCC is, without a doubt, in the business of building musicians.
"Several of our singers got selected for top bands in their schools, made All-State Choir, and decided to major in music. We are delighted with the achievements of our "graduates!" "said Verner.
Have a lifelong impact
Music will always be a part of these young people's lives, and the life lessons they have learned are invaluable.
"Every year we take out many seniors; this year, we have 29 graduated singers. I know the choir has had an impact on them when I see these seniors studying music in college, singing in community choirs as adults, and coming to OP concerts to support current singers. My goal is to make every student in the choral program and every student who listens to us a lifelong lover and appreciator of music," Izzo said.
"Although a handful of my students have become professional musicians and music teachers, that is not my goal as a teacher. I teach citizenship, acceptance, character, empathy, while rehearsing and playing music together. Just recently, a colleague mentioned that they were at a wedding, and none of the groomsmen knew how to tie a tie except one, who tied them all. His response to "How did you learn to do that?" was, 'Mr. Keirstead taught us all in 7th grade choir," Keirstead said.
Verner enjoys seeing respect between students and friendships forming. "We teach singers to work as a musical team, to learn to be good singers and to respect each other and their leaders… They learned a lot musically but gained confidence singing in front of others. They also befriended each other and their leaders," Verner said.
And acceptance into the WMC program is just as important to Hancock as the music.
"Over the past three years, I have seen the WMS Choral Program become a safe space for everyone despite their differences in background, musical experience or gender identity. It is imperative that students feel safe not only physically but also emotionally as this will eventually affect their behavior and
commitments beyond the environment of the choir class. Choral arts across the country have taken a hit with the global COVID-19 pandemic redefining our general meaning of the word safe. However, this program has served as a place where students are free to be themselves and discover more of who they are without judgement," Hancock said.
Amy Falkofske is a freelance writer and screenwriter. She has a Master's Degree in Film-Television with a Concentration in Screenplay and Screenwriter from Regent University. She lives in Bristow with her husband, two boys and two Beagle dogs.