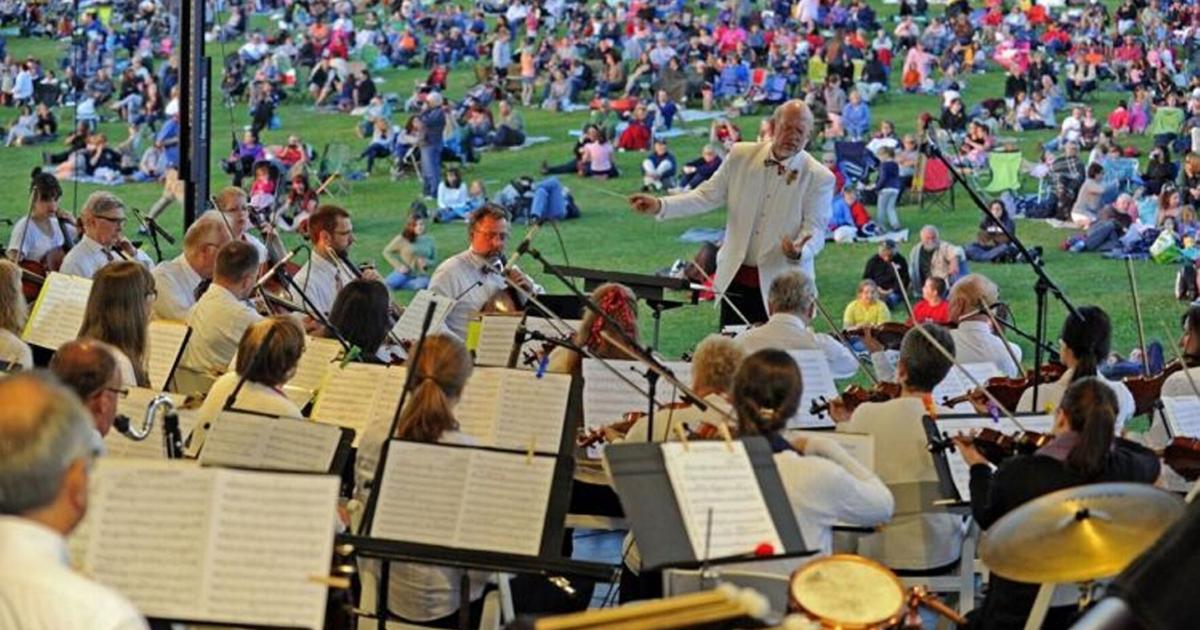 Classic riddle: Watertown music fans left with a split decision on Sunday | arts and entertainment
WATERTOWN — Watertown-area classical music fans were left with a conundrum on Sunday due to a rare scheduling mishap.
The Orchestra of Upstate New York presented its "Dreams of Spring" concert at 3 p.m. at First Presbyterian Church, a day after the orchestra presented the concert in Potsdam. Also at 3 p.m. Sunday, the Trinity Concert Series at Trinity Episcopal Church hosted Seraph Brass for a pipe organ and brass concert as part of the belated 50th anniversary of the Hill, Norman and Beard Pipe Organ from the church.
Regular customers were split between the two locations. The Trinity Series and ONNY have worked diligently to avoid such conflicts. But on Sunday, this cooperation fell through the cracks.
A major funder of both series has now put in place an emergency policy to avoid a similar situation.
Through emailed questions to Kathy Del Guidice, Executive Director of ONNY, and Kyle P. Ramey, Organist and Choirmaster at Trinity Episcopal Church and Founder of Trinity Concert Series, it was explained how Sunday's conflict occurred.
Ms Del Guidice said she checked her emails on Monday, the day after the concerts.
"I dropped the ball by not responding to a request last August from Kyle asking for our dates," she wrote, and apologized, adding, "Sometimes, unfortunately, a second reminder is needed ."
She said she received several complaints at the ONNY concert in Watertown on Sunday about events being coincidentally scheduled on the same day and at the same time.
"I suspect we both experienced smaller audiences as a result," Ms Del Guidice wrote. "Of course, when that happens, everyone loses. It's very unfortunate.
In previous, pre-COVID days, Ms Del Guidice said ONNY dates had been sent to Mr Ramey.
Mr. Ramey wrote that the Trinity series prides itself on the fact that in its 112 performances, there have only been two times where a performance conflicts with the ONNY.
"The first one I was able to change before the gig was in 2015," he said.
Following that 2015 dispute, Ramey said representatives of TCS and ONNY met at the Northern New York Community Foundation to discuss how to avoid such disputes.
The foundation is a major sponsor of both organizations.
"Knowing that ONNY performance dates are not flexible (due to the very tight schedule at SUNY Potsdam), it was decided that ONNY would send performance dates to TCS as they become available each year so that we weren't also booking artists on those dates," Mr. Ramey wrote.
ONNY's tight schedule is due to its locked dates based on the Crane School of Music schedule.
Ms. Del Guidice said that it is not easy to find three consecutive dates when ONNY can rehearse (Thursday and Friday evenings from 7 p.m. to 10 p.m. and Saturday from 10 a.m. to 1 p.m. in the Hosmer Hall) and perform (the Saturday evening at 7:30 p.m.). . A Watertown concert regularly follows the next day.
"It takes Hosmer Hall offline for all Crane events, and it's a popular and heavily used space," Ms Del Guidice said. "When the schedule is determined in a meeting with all parties – Crane, the Community Performance Series and ONNY – we are always housed last. It is, after all, a college institution and their programs come first.
Mr. Ramey wrote that he had not received dates for the 2021-2022 season from ONNY in the spring of 2021 and that he had contacted by e-mail for information to Ms. Del Guidice, founder and director of 'ONNY Kenneth B. Andrews, the office of the First Presbyterian Church and spoke to an ONNY advisory board member "to no avail."
"With no information regarding an ONNY season, and assuming their 2021-2022 season was another unfortunate victim of the ongoing pandemic, I have sent our season brochure to be printed," Mr Ramey wrote. .
Mr Ramey said he was "extremely worried" when he learned in November of the conflicting date of April 3. "Especially because there are individuals who subscribe to both series. I did not contact ONNY about the dispute as we could not change our performance date due to the agreement signed between TCS and the musicians' management company," he wrote.
He added, "Now that TCS presents 13 regular season concerts and nine summer season concerts each year, unfortunately there is bound to be a time when a conflict arises with another organization. We especially avoid conflicts with ONNY because both groups are so generously funded, in part, by the Northern New York Community Foundation. This is to the detriment of local classical music fans and diminishes the audience size for both concerts.
"Classical music lovers in the greater Watertown area and both organizations all lose when conflict arises," Ms. Del Guidice wrote.
Looking ahead, she noted, "We had a conflict with the Clayton Opera House gig and the Crane weekend welcome gig. In 2023, they will not take place on the last Saturday of August, but on Labor Day weekend.
Conditional grants
Rande S. Richardson, executive director of the Northern New York Community Foundation, Inc., said the North Country is "incredibly fortunate to have both outstanding concert series in our region."
"Our support for them is long standing," Mr Richardson said. "As a result, our grants to these two organizations aim to increase the availability and accessibility of these artistic and cultural experiences for the public. Having two on the same day, classic or otherwise, doesn't help that goal.
He explained that when such events concur, it forces citizens to choose.
"Inevitably, this results in lower attendance for both," Mr Richardson said. "From a donor perspective, any support given is diminished when the impact is diluted. For the next grant cycle, we will award grants on non-conflicting dates. »
He added: "It is certainly the choice of every organization as to how they plan their season. However, we have a responsibility to our donors to maximize how grants benefit local residents. We hope that those who enjoy live music opportunities can have the opportunity to attend the maximum that is offered during the year.
Instrumental command
During Sunday's ONNY concert, HarmoNNYPPerforming Arts Community teamed up with the orchestra for an instrument workout. HarmoNNY is a Watertown-based non-profit group that fosters relationships between performers, educators, students, art lovers, and local businesses and organizations.
Joseph S. Foy, Chairman of the Board of HarmonyNNY, said Sunday's fundraiser went very well. The organization brought together four instruments: a horn, a trombone, a flute and a clarinet.
"We're very excited about this, especially since this is the first horn and trombone we've received," Mr. Foy said. "We will continue to make them in our library for members of the community who may need them."
HarmonNY's Instrument Lending Library is in association with Thomas Norton of Allen Instrument Repair and Supply, Oswego.
The Northern New York Community Foundation provided grants to HarrmoNNY to support the lending library.
For more information on the librarylike how to use it and how to donate to it, go to wdt.me/Harmonnylend.