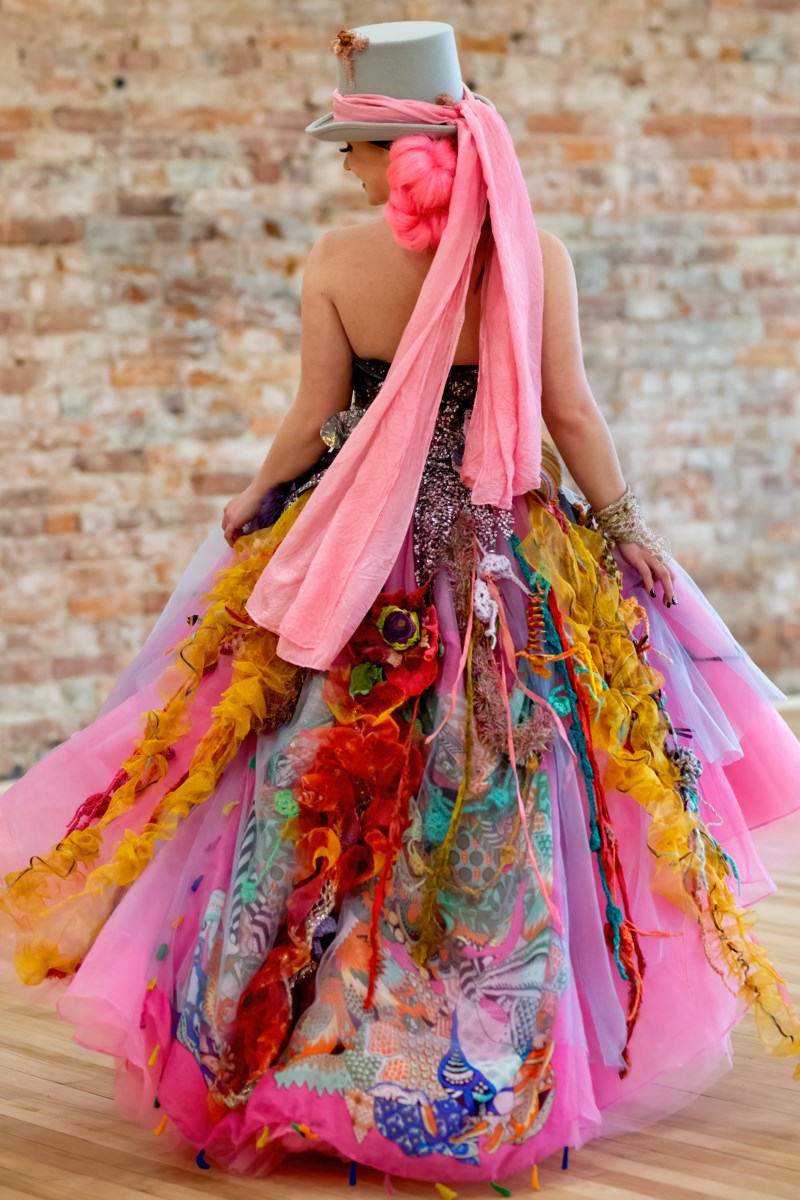 COLUMN: Sominatis' new video opens up a "world of beauty"
The video is a fundraiser to support mental health in the community, says Tammy Dore of Orillia, noting that Sominatis "lost two members to mental health" in 2018
Do you remember the days when live events existed? And Somniatis, the Wearable Art Show, designed and produced by Ruth Germain, first won us over here in O-Town?
After Ruth's retirement, Somniatis then continued under the more than able guidance of Tammy Dore, and blew us away with a beautiful wearable art exhibit in St. Paul's, in 2018.
Dozens of people participated in each show, including artists and designers, models, hairdressers and makeup artists, photographers and musicians. It was truly a blend of all the amazing creativity we know in Orillia and the region.
Of course, 2020 brought the pandemic and live events fell apart. It was among the plans for another wonderful Somniatis show. Artistic Director Tammy Dore, however, did not want to let go. So she came up with a plan that resulted in the creation of the documentary The Somniatis Sisterhood of the Traveling Dress, A World of Beauty, which is now available and on YouTube.
OrilliaMatters (OM): How did you come up with the idea for the video?
Tammy Doré (TD): This video started in 2018 with the idea of ​​presenting it in a live performance. It was about taking the audience on a journey to show what goes into a design, but also to show the efforts of everyone involved. Hairdressers, makeup artists, photographers and involvement of models as well. How does a collaboration work and how important it is that all the artists together make a masterpiece.
How no one is better than the other, and when we are allowed to create together, work and respect each other on a voluntary basis and have time to prepare, something too amazing happens.
OM: What drove you to this project?
TD: With the pandemic, I had to postpone and cancel all live shows. It's not safe, and I always feel like there isn't a safe place in sight to do it. With that thought at hand, I felt lost. Looking at virtual events and what the other arts were doing, I felt there was a way to keep Somniatis alive. I also know the toll the pandemic has taken on the art world. We are still not back to normal and we do not know when the new normal will develop.
As a community, we have such talented creatives who do so much to use their artistry to do good and give back. So in putting this together, I took many artists with me and the struggles that we have all faced together and the challenges created by this pandemic.
OM: Project funds go to the mental health department at Soldiers' Memorial Hospital in Orillia. How did you choose this recipient?
TD: In 2018 Somniatis lost two members due to mental health, so that was my fundraising goal to help our community. In a (normal) world life is hard. I see it more than ever with this pandemic, it's so understandable with the world as we knew it was overturning and navigating an even more difficult world.
Everyone struggles so continuing to support mental health with donations and all the support numbers for support was very important to me and the message of just being kind was also very important.
I don't have a new date for a live show until I think it's safe for everyone! I know this band is still creating and dreaming… I look forward to the moment when we can once again present our dreams to our audience.
Somniatis 'A World of Beauty' discusses mental health supports in our community and shows the journey of a Somniatis creation, from a simple dress to a model with full hair and makeup, then featured in a stunning clip video with a dancer and music. The 23-minute video is available here.
Donations to the Orillia Soldiers' Memorial Hospital to support mental health can be made here.
Other notable bits and bobs this week:
There is an Open House on Art and Mental Health at The Meeting Place, 28 West St. N., Orillia, every Friday in October from noon to 4 pm. This is set up by the Orillia District Arts Council, for Culture Days.
Yours Truly Jackson (Jackson Fournier) has released a new single about love and loss, a collaboration with Cxldaf, and you can listen to it here.
Orillia artist Bones Sucks (Dylan Court), Chef Lady Bird and other Simcoe County artists are in a hand-painted skateboard exhibit through October 10, at Spare Room, 12 Lakeshore Mews, Barrie, then go ahead.
The Orillia Art and History Museum has partnered with Parklane Landscaping for eight eco-art sessions for kids. Check it all out here.
This weekend, Hibernation Arts in the Peter St. Arts District has an exhibition of works by guest artist Natasha Genevieve, Saturday from 12pm to 3pm. .
The Orillia Concert Association has announced its 2021-22 season, and the first two shows are virtual. You can enjoy Sinfonia Toronto on October 23 from the comfort of your sofa, and Peter Stoll, clarinet, likewise, on November 28. To purchase tickets, please call 705-327-0703 or visit the Orillia Concert Association website.
Mariposa Folk Fest is holding a series of satellite concerts at various venues around the city on October 23. Check it out and get tickets here.
Don't forget the National Day of Truth and Reconciliation on September 30. Take the time to recognize and learn about the wrongs we have done to our Indigenous brothers and sisters. There are many resources available for learning. And wear your orange shirt!
That's more than my allotted space at the moment, so see you next week.
If you have any arts news, send it to [email protected] by noon Tuesday, to be included.