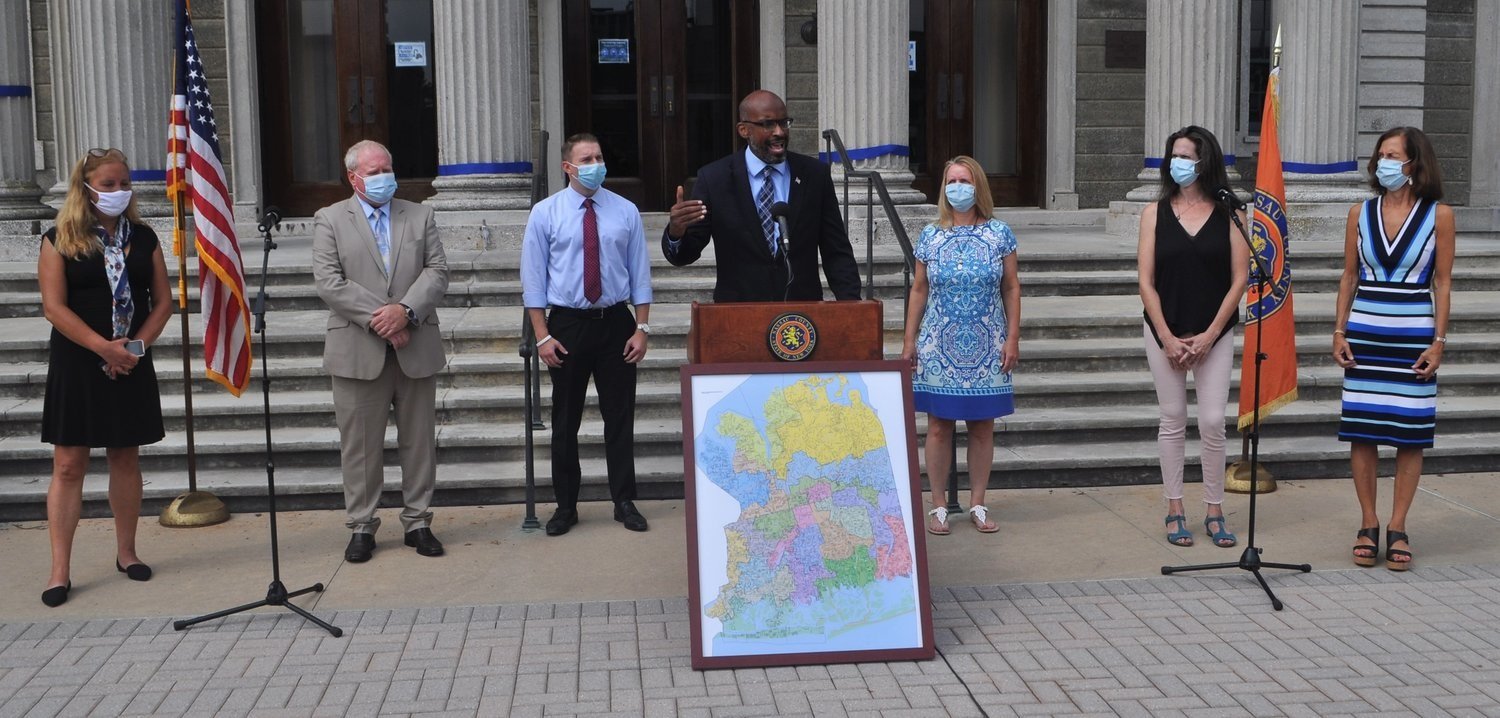 Elmont leaders call for better redistribution | Herald Community Newspapers
[ad_1]
With a redistribution on the horizon after the release of the 2020 census data, local leaders shared two of their concerns: representation and resources.
The redistribution, the redistribution of federal, state and local electoral constituencies that encompass several communities and voters, is carried out every 10 years. As stated by the United States Constitution, a national census is taken once every decade, and the redistribution is based on census data.
"People feel disenfranchised by the lines of Congress," said State MP Michaelle Solages, a Democrat from Elmont, explaining a major problem Elmont residents have with the redistribution: feeling represented in Congress.
Part of the 5th Congressional District, Elmont is represented in the House of Representatives by Gregory Meeks, a Democrat. During the last redistribution in 2011-12, the 5th arrondissement was redesigned. Under the new map, residents of Elmont are represented by Meeks, a household name in Queens, but someone less known in the Nassau County communities he represents.
A number of Elmont voters have said they would prefer to be represented in Congress by someone based in Nassau, and because Meeks' office is located in Queens, many Elmont residents believe the congressman isn't familiar with the needs of the Long Islanders' suburbs, Solages said.
This is not only a concern at the national level, but also at the state and local levels, said Mimi Pierre-Johnson, head of the Elmont Cultural Center and longtime community activist.
"We will be, if the map remains the same, with all three elected as elected from Queens," said Pierre-Johnson, referring to Meeks, State Senator Leroy Comrie and State MP Clyde Vanel. , whose constituencies also stretch across Queens to Nassau.
Pierre-Johnson said this hampers another area of ​​concern to Elmont voters: politics. "Absolutely nothing political, they say is related to Nassau County," she said.
Pierre-Johnson applauded the policies put in place by Meeks and other elected officials for the residents of Queens, such as universal preschool. On the other hand, Pierre-Johnson noted that residents of Long Island are subject to higher taxes than residents of Queens.
"Voters should be able to elect representatives who reflect their values," Solages said.
"I am thinking of resources," said Pierre-Johnson. "What kind of resources do my taxes provide? They fail me that way.
"Elmont has been carved out," said Solages, who represents all of Elmont in the state assembly district that was established in 2012. "We should draw lines that don't deprive communities of their rights," she added.
In the State Senate, Elmont was divided into Districts 7 and 9, represented by two Democrats, Anna Kaplan and Todd Kaminsky. "Neighborhood voices" were effectively divided, weakening community organization, Pierre-Johnson said.
Solages stressed that the redistribution should "maintain entire communities" and represent the "character of communities".
Due to the large Haitian constituency of Elmont, Pierre-Johnson said many residents believe Meeks and other Queens-based elected officials need to do more to build a relationship with the Caribbean community. This, she said, would benefit residents.
The 2011 redistribution process, which Solages called "emotionless", did not significantly take into account "socio-economic concerns as well as realities at city and county level," he said. she said, adding that "communities should be protected and empowered in this process".
Currently, the Nassau redistribution is overseen by an 11-member council made up of five Democrats and five Republicans. County executive Laura Curran selects the non-voting president who oversees the board.
In November, voters in Nassau will be able to choose a new method of redistribution that is increasingly popular and widespread across the country: an independent commission. This method uses an apolitical commission to redesign electoral districts without the influence of political parties and politicians.
Legislation supporting the establishment of an independent commission has been passed twice by the New York State Legislature. According to state law, because the legislation has been passed twice in both houses of the Legislative Assembly, a referendum to create the independent commission will be offered to voters on election day.
Solages, who voted for the law creating an independent commission, stressed that voters must play a role in the redistribution. "It's important that we hear feedback from communities," Solages said.
"We should have nice, clean neighborhoods where people don't need a ruler or rubric to see how the lines were drawn," Solages said. "We want to make sure that the process is that people elect their representatives, not that elected officials choose their constituents."
[ad_2]