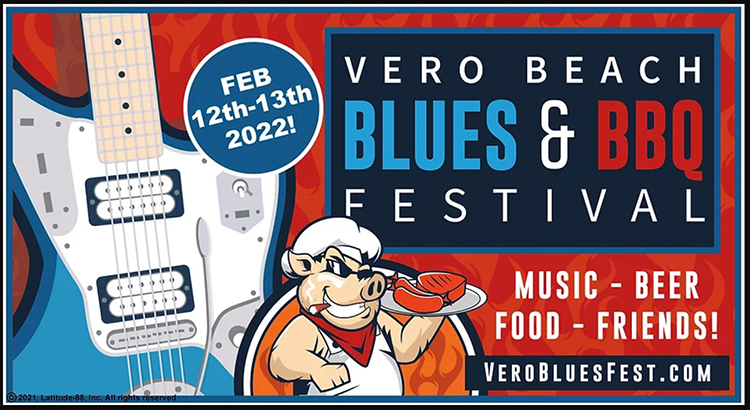 Future ! A blues and barbecue festival tops Vero's musical weekend – 32963
The beat is definitely "gonna get you" this weekend in the Vero Beach area. The Vero Beach Blues & BBQ Festival debuts February 12-13 at the Indian River County Fairgrounds. This is the event where you put aside those dieting resolutions and dip the whole pork into the incredible barbecue and more served up Southern style by a crowd of vendors. These vendors will also sell adult cold drinks, including beer and full liquor bar selections. There will be a full roster of musical artists on stage throughout the festival. Saturday's lineup begins at 11:30 a.m. and includes David Julia, Z-Tones Band, Ellie Lee Band, JP Soars, the Joel DeSilva Band, the Eric Culberson Band and Selwyn Birchwood, who takes the stage at 8:15 p.m. Rolling Stone magazine hailed Birchwood as "a remarkable, contemporary bluesman…a powerhouse." Sunday's lineup begins at 11:15 a.m. and includes the Front Porch Blues Band, Blues Crusaders, Joe Survival Caruso and the Dave Scott Band, which takes the stage at 3:30 p.m. There will also be art and craft vendors. on-site craftsmanship, as the organizers say "expect the unexpected". Admission to the festival is $5 per person. You can buy them at the door in cash or by credit card. Children 12 and under are admitted free. Parking is free. The Vero Beach Blues & BBQ Festival runs from 11 a.m. to 10 p.m. Saturday, February 12 and 11 a.m. to 5:30 p.m. Sunday, February 13 at the Indian River County Fairgrounds, 7955 58th Ave., Vero Beach. For more information, call 772-492-6105 or visit VeroBluesFest.com.
The Indian River Symphonic Association presents the Russian National Orchestra, which will perform as the Palm Beach Symphony on Thursday at Vero Beach. The concert will feature works by Russian composers. It will be conducted by maestro Gerard Schwarz and pianist William Wolfram, who will play Rachmaninov's Piano Concerto No. 2 in C minor, op. 18. Also on the program, Kikimora by Lyadov, op. 63 and Shostakovich's Symphony No. 5 in D minor, Op. 47. The concert begins at 7:30 p.m. Thursday, Feb. 10 at the Vero Beach Community Church, 1901 23rd St. Tickets are $85. Call 772-778-1070 or visit IRSymphonic.org.
As Valentine's Day approaches, you might want to plan to take your loved ones to the Valentine Pops concert this Saturday, February 12 at the Vero Beach Community Church. The concert features soprano Rachel Carter Murphy and the Festival Pops Orchestra performing romantic works by Bernstein, Lahar, Guettel, Puccini, Menotti, Horner and the Beatles. The conductor is Andrew Galuska, director of music and fine arts for the church. The concert begins at 7 p.m. at the Vero Beach Community Church, 1901 23rd St. Tickets are $25 at the door. Masks are recommended regardless of vaccination status. For more information, call 772-562-3633 or visit CCoVB.org.
Immerse yourself in some great rock and roll when The Hit Men take the stage on Thursday, February 10 at the Emerson Center. The musicians are all true performers who have played with bands like Foreigner, Journey, Styx, the Hooters, Steely Dan, Cheap Trick, the Rascals, Alan Parsons, Three Dog Night, Cream, Grand Funk and even the Who. This is a multimedia concert, so expect it to be a lot of fun as the musicians share memories from rock history. The group Hit Men was recognized by the Musicians Hall of Fame and Museum in Nashville and received their first "Road Warriors Award". It is presented by Live! from Vero beach. It starts at 7 p.m. at Emerson Center, 1590 27th Ave., Vero Beach. Tickets cost between $35 and $80. For more information, call 800-595-4849 or visit MusicWorksConcerts.com.
The 12th Annual Auto Show will be held from 10 a.m. to 3 p.m. on Saturday, February 12 at McKee Botanical Gardens. There will be 40 amazing cars on display throughout the garden. They include a rare 1958 Ferrari California Spyder, a 1963 Alfa Romeo Giulia Sprint Speciale and a 1984 Ferrari BB 512i. You can see all of these with your regular ticket to the gardens. Tickets are $15 general, $13 for seniors 65 and over, $13 for children 13-17, $10 for children 2-12, and free for children under two. . The McKee Botanical Garden is located at 350 US 1, Vero Beach. Call 772-794-0601 or visit McKeeGarden.org.