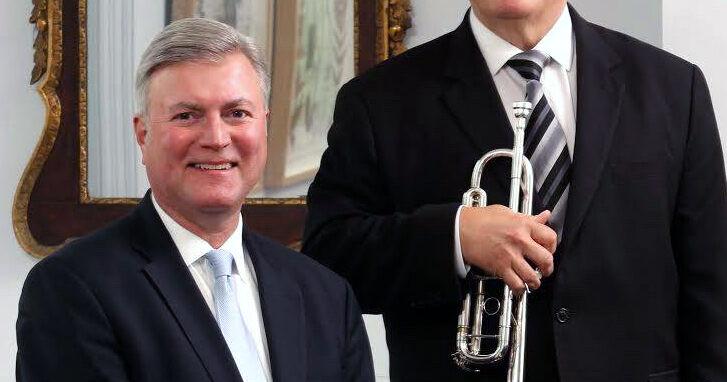 Johnstown Concert Series to Feature World Renowned Artists | Features
JOHNSTOWN, Pennsylvania – A new musical season awaits patrons of the Johnstown Concert Series.
Performances will be at 7:30 p.m. Saturday at First Presbyterian Church, 309 Lincoln St., downtown Johnstown.
The series will focus on classic bands and some returning favorites.
"It's going to be quite varied with a bit of everything, and there's something for everyone," said Bill Brice, a member of the show's board of directors.
"We go from a trumpet and organ duet, classical strings, solo piano and wind quintets to gypsy jazz and a choir of bells. It is a beautiful offering. »
The season kicks off September 17 with the Seipp/Sheets Trumpet & Organ Duo – trumpeter Chuck Seipp and organist Randall Sheets.
The duo's innovative and interactive programming, artistic arrangements and video presentations provide an engaging concert experience for all ages.
They have performed across the country for church concert series, universities and organ guild chapters and have been featured at the Piccolo Spoleto Organ Festival.
Sheets is a ceremonial organist for Arlington National Cemetery. Seipp is a retired US Army Band sergeant major.
"They're a pretty unusual couple," Brice said.
"You don't think of the trumpet and the organ in the same sentence, but they manage to do it and it's very innovative. They are exceptional musicians and very entertaining and engaging.
The October 15 concert will feature the IUP Faculty Wind Quintet.
The quintet is made up of faculty members from the music department at Indiana University in Pennsylvania who have performed at several meetings of the Association of Music Educators of Pennsylvania and most recently toured Moscow and St. Petersburg, Russia, performing at the Moscow Conservatory and the Rimsky-Korsakov Conservatory.
The members are Thérèse Wacker, flute; Stephanie Caulder, oboe; Rosemary Engelstad, clarinet; Heidi Lucas, horn; and Jason Worzbyt, bassoon.
"It's more of a chamber music offering," Brice said.
"With a wind quintet, you tend to hear the melody everywhere, with each instrument changing as they pick up the melody."
Pianist Clipper Erickson will perform on November 19.
Erickson made his debut at age 19 as a soloist with the Young Musicians Foundation Orchestra in Los Angeles.
His artistry has won major international awards, and he has headlined programs with orchestras and performed to critical acclaim in major concert halls.
"His playing has been described as music for the soul, and he is one of the finest pianists of his generation," Brice said.
"He was here in 2018 and people asked when he could come back."
The March 18 concert will feature the Sterling and Strings Terpsichore Trio.
Founded in 2007, the group includes cellist Susanna Reilly, flautist Melissa Lessure and violist Becky Rothermel.
They have over 20 years of experience performing concerts, weddings and other special events.
The trio combines the melodious flute with the resonant chords of the viola and cello.
"It's a more classical band with flute, cello and viola, and it's a different combination of instruments," Brice said. "They are a new group for us."
On April 15, Tim Wetmiller and Friends will perform.
Wetmiller, originally from Johnstown, is the band's violinist.
The group's repertoire has a reverence for gypsy jazz, as well as folk influences from around the world.
The public will be entertained with an evening of old and new music.
"He lives in Seattle and is described as 'one of the most gifted and active musicians in this city,' and he plays everything from gypsy jazz, western swing, Latin and Cuban, etc." , said Brice.
"He was last with us in 2019, and he's back by popular demand. It's a fun show and I didn't know what to expect, but I was blown away.
The concert series will conclude on May 20 with the Three Rivers Ringers.
Founded in 2010, Three Rivers Ringers is Pittsburgh's first community bell ensemble that performs challenging repertoire.
In 2016, they had the honor of performing at the National Seminar for Handbell Musicians of America, and they have performed several times at the Pittsburgh Symphony Orchestra's holiday concerts.
Three Rivers Ringers plays a seven-octave set of Schulmerich Bells, a five-octave set of Schulmerich Hand Chimes, a one-octave set of Malmark Bass Chimes, and a two-octave set of Schulmerich Silver Melody Bells.
"They are amazing and push the boundaries of the handbell art form," Brice said.
After each performance, the public will have the opportunity to meet and discuss with the musicians.
"We are extremely pleased with the quality and quantity of music we will be able to release this season," said Brice.
"People will discover joyful music.
"I hope they leave whistling a tune or snapping their fingers because they're all just delicious."