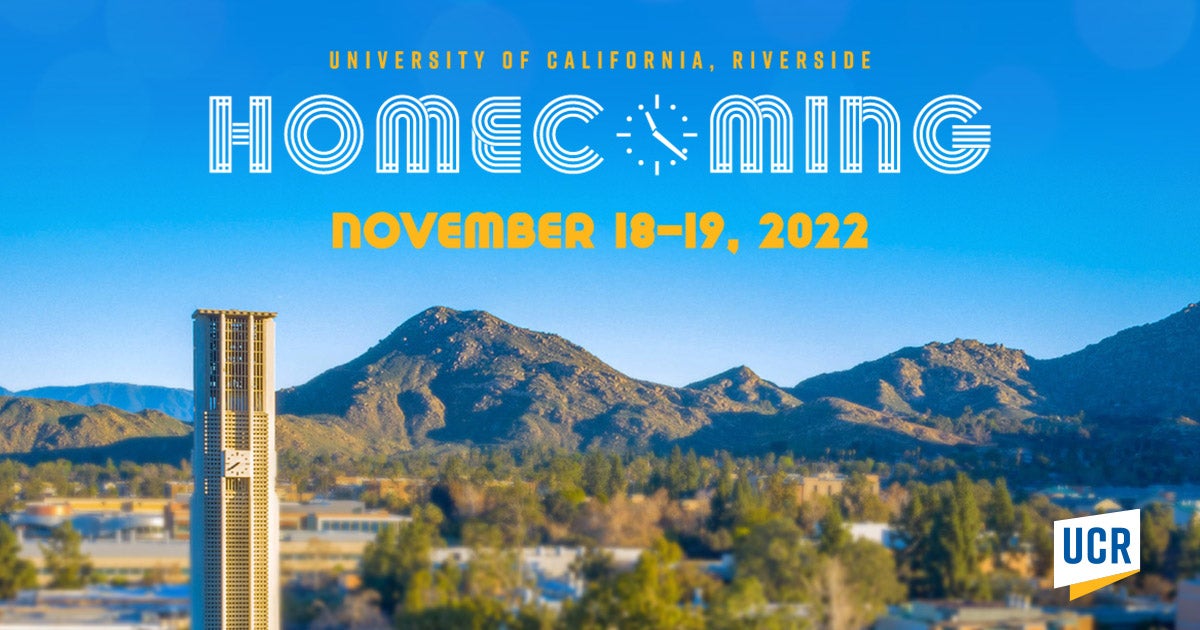 Join us for UCR Homecoming 2022
UC Riverside alumni are invited back to campus for one of the biggest homecoming celebrations in university history. Scheduled for November 18-19, the event will celebrate all of UCR – past, present and future.
Headlining this year's Homecoming are the Beach Boys, along with former DJs Alf Alpha and Yimbo, in an afternoon concert exclusively for alumni and their guests. Men's basketball and women's volleyball games will follow, followed by evening festivities marking the 50th anniversary of the African Student Programs and the Chicano Student Programs at UCR.
Free UCR t-shirts are available for alumni and UCR branded beach towels for the class of 2020 will be available for pickup at the UCR Alumni concert booth, both while supplies last.
Other family activities include a 5,000 mile run/walk, classic car show, food trucks, Ferris wheel rides and Opportunity Drawings. In addition to touring the newly renovated barn, attendees will be able to pre-order gourmet boxed meals to go, dine at The Habit, and enjoy other restaurants on campus. A VIP lounge and bar service are also available for some guests. To qualify for the VIP Lounge experience, all Highlander alumni are encouraged to provide financial support for UCR students by joining our Chancellor's Associates and/or the Watkins Society.
Donations made during Homecoming go twice as far with a matching gift from Jeff Krynski '81, UCR Trustee and former Chairman of the UCR Alumni Association Board of Directors. Learn more about doubling your gift to the Alumni Association Scholarship Fund, Black Alumni Chapter Fund, and Chicano Latino Alumni Endowment Fund.
Details of the event are listed below, and more information is available at homecoming.ucr.edu.
KEY EVENTS
friday november 18
6pm-10pm
Homecoming Odyssey (ASPB)
Location: HUB Lawn
Homecoming celebration for students with live music, attractions, free food.
6pm-11pm
Chicano Student Programs 50th Anniversary Gala @ HUB 302
Let's proudly celebrate 50 years of family, pride and heart! In partnership with UCR Chicano Latino Alumni Chapter, this dinner and dance fundraising celebration will include music, speakers, a silent auction and entertainment.
GET TICKETS | BECOME AN EVENT SPONSOR | MAKE A PRESENT
Saturday November 19
7am-11am
17th Annual Spirit of the Tribes 5K Run/Walk
Location: Rivera Lawn
Honor Native American spirit and culture with a morning of fun and exercise for students, family, and friends while supporting scholarships at UCR. Hosted by Native American Student Programs.
REGISTER
10am-11.30am
UCR Brunch with the UCR Alumni 40 Under 40 Honorees
Location: Alumni and Visitor Center
This invite-only bruncheon honors UCR's first 40 under-40 alumni
and our many dedicated university volunteers and supporters.
11am-12pm
UCR Parent and Family Meeting
Location: HUB 302
For parents and family members of Highlander students who wish to get involved, this gathering is a great opportunity to connect and meet other Highlander families. Guest speakers tentatively include Vice Chancellor of Student Affairs Brian Haynes and Director of Intercollegiate Athletics Wesley Mallette. Email invitations will be sent out in early mid-October.
REGISTER
11am-1pm
CHASS Alumni Event
Venue: The Barn Theater
Enjoy appetizers, drinks, guest speakers, lab tours, and networking.
1 p.m.-4 p.m.
Homecoming Concert feat. The Beach Boys @ Bell Tower/HUB Lawn
A free alumni-exclusive concert featuring The Beach Boys with music of all genres for all ages by former DJs Alf Alpha and Yimbo. Doors open at 1 p.m.
TICKETS
4 p.m.
Homecoming Men's Basketball Game at the Student Recreation Center Arena
Cheer on our Highlanders as they take on the Western Tigers. Wear your UCR gear!
TICKETS
7:15 p.m.
UCR Volleyball vs. UC Santa Barbara @ Student Recreation Center Arena
Cheer on our Highlanders as they take on the UCSB Gauchos.
Free, no ticket required.
6pm-11pm
Black Alumni Chapter Scholarship Gala @ African Student Programs
The Black Alumni Chapter, in partnership with African Student Programs, invites fellow Highlanders and friends to honor the past 50 years of ASP history, celebrate our collective achievements, and envision a bright future for our Black scholars. Together, we embody the philosophy of: "It takes a village for Black academic success" – then, now and forever. We are proud to honor the following leaders in our community:
• Jack B. Clarke Jr. '80, Esq., partner at Atkinson, Andelson, Loya, Ruud & Romo
• Rickerby Hinds '94, Chair and Professor of Theatre, Film and Digital Print for UCR's CHASS
• LaSharon A. McLean Perez '04, MFA '09, Deputy Director, UCR International Affairs
GET TICKETS | BECOME AN EVENT SPONSOR | MAKE A PRESENT
6pm-11pm
Medical Education Celebration Gala at the Riverside Convention Center
With dinner, musical performances, student testimonials and a chance to hear medical students talk about their experiences. Proceeds support the School of Medicine Mission Award Scholarship Program.
GET TICKETS AND INFORMATION