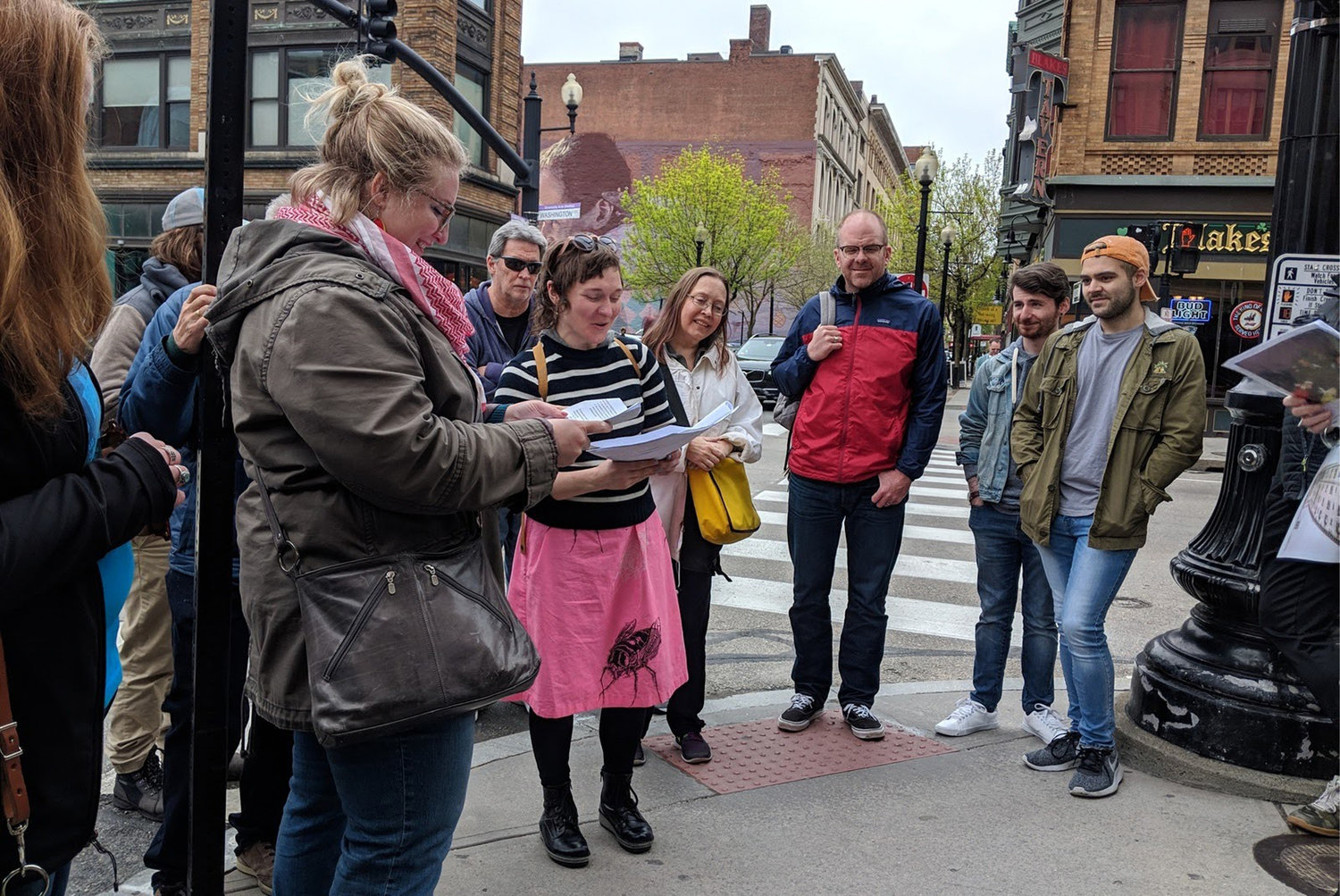 Neighborhood News | Providence Media
Organized by Abbie Lahmers
Jane's Walk in May encourages
residents to explore and connect
Join your neighbors in exploring Providence on foot during this year's Jane's Walk, a global festival weekend taking place May 6-8 inspired by legendary urban activist Jane Jacobs. These free walking conversations are led by local residents and community activists who share stories and get people thinking, talking and connecting with each other.
Past walks have ranged from a look at Where 195 Used to Be, LGBTQ+ history downtown, the Barrios of Broad Street and even gargoyle hunting in Downcity. All rides are free, no reservations are needed and anyone can participate. Just put on your walking shoes, show up rain or shine at the designated meeting place, and get ready for a lively chat. The full list of rides spread across Providence neighborhoods will be unveiled in mid-April. Visit DoorsOpenRI.org/JanesWalk for more information.
Washington Park neighbors fight pollution in South Providence
In 2019, the Washington Park Association, along with many others, successfully protested a proposed transfer station, which would handle many tons of trash and contribute to pollution, from its installation in Lower South Providence. Known as a frontline community, the region has always faced the impacts of climate change and pollution more severely than other regions. WPA is pleased to report that the toxic proposal has been rejected, which is a small step for a community burdened by many polluting businesses in the neighborhood.
Now Providence has the opportunity to turn around this rundown area of ​​urban wasteland by building a community solar panel on the site. This solar facility, if built, can bring clean, renewable electricity to 150 homes, benefiting the same frontline community that fought and defeated the transfer station. To further benefit the area, WPA is actively seeking volunteers to help plant trees this season, promoting clean and green spaces.
FPNA welcomes three community advocates to its board of directors
The Fox Point Neighborhood Association (FPNA) is pleased to announce three recent appointments to its Board of Directors: Lily Bogosian, Alex Iannetta and Scott Moran. Bogosian, a 12-year Fox Point resident, led his neighbors in a grassroots, years-long effort to protect green space and reduce east side sprawl. She brings a background in finance, and she is also an active beekeeper and teacher at the Rhode Island Beekeeping Association. "I look forward to making a difference in our wonderful neighborhood," she says.
Iannetta is the founder of a boutique consulting firm in Fox Point, where he assists clients with business, technology, and cybersecurity. He has served at various levels on the board of directors of local RI nonprofits and holds a bachelor's degree in business administration from Northeastern University.
Moran is a visual artist, good gardener, parent and Fox Point Community Garden board member. Moran hopes to use his expertise "to advance public art and green space," he says, "for the long-term vitality of the neighborhood."
FPNA has been serving the neighborhood for over 30 years. Its members and all-volunteer Board of Directors are dedicated to protecting and enhancing the quality of life in the neighborhood as well as its historic integrity and resources.
SNA Announces Partnership with Rochambeau Library, Board Elections and Volunteer Efforts
The Summit Neighborhood Association is thrilled to partner with the Rochambeau Library to help support the expansion of their outdoor classroom. Plans are underway, and may be underway at the time of publication, to make better use of the outdoor space behind the library with murals, flowers, interactive musical elements and benches to accommodate a variety of events and community opportunities.
The SNA Annual Meeting will be held on Monday, April 25 at 7 p.m. They plan to hold this event on Zoom, but neighbors interested in attending should stay tuned for updates. As usual, this meeting will include presentations by local elected officials with the opportunity to ask questions, as well as their annual election of SNA officers and board members. If you are eager to participate in improving the Summit neighborhood and would like to be considered for the Board of Directors, SNA encourages you to reach out.
Neighborhood volunteers continue to assist the Mount Hope Community Center and Camp Street Community Ministries in their work of distributing groceries from the pantry every Wednesday and Friday to residents in need. Additional volunteers to help with deliveries and unloading food pallets are always welcome. Contact [email protected] to join the volunteer mailing list.