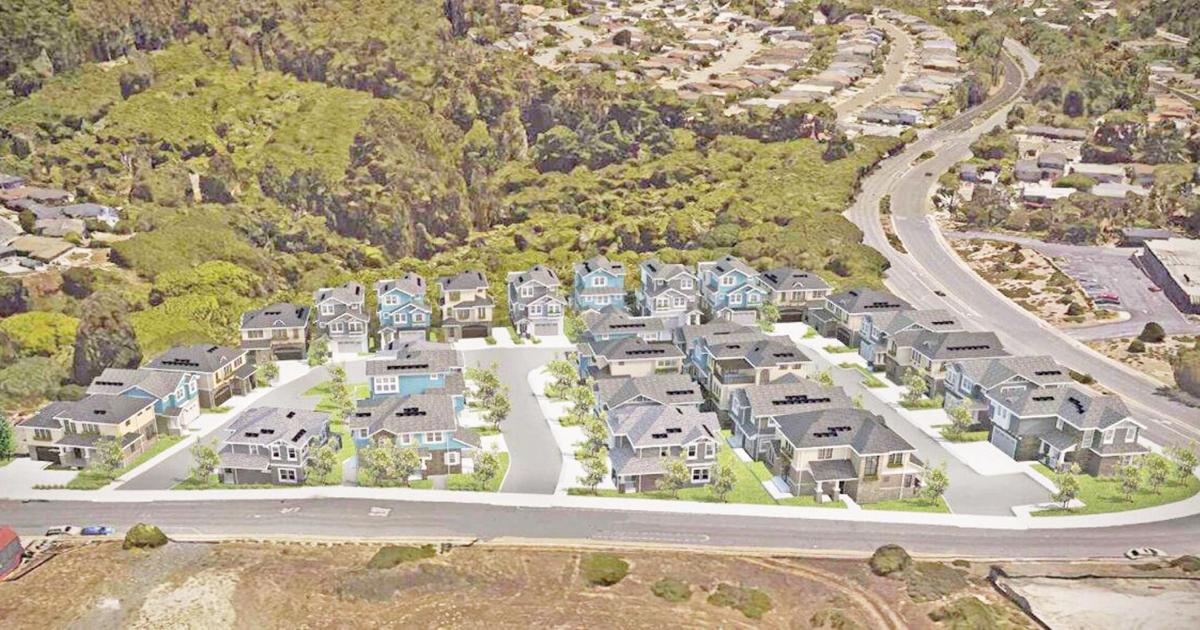 New Single Family Homes in San Bruno OK'd | Local News
A long-vacant lot adjacent to San Bruno's Crestmoor Canyon is set to be turned into a new residential neighborhood, as city council this week granted unanimous approval for the construction of 29 single-family homes starting later this year.
The site in question spans 3.3 acres on the corner of Glenview Drive and San Bruno Avenue, and if all goes according to plan, the new homes will be ready to move in by 2025.
"I am delighted to welcome new neighbors to Crestmoor," said council member Tom Hamilton. "It's one of those projects where they really went the extra mile to dot all the i's and all the t's."
The houses will mostly be two-story, with those backing onto the canyon including a third basement level. Square footage will range from 1,700 to 2,600 square feet, and each home will have a two-car garage with a driveway allowing for two more parking spaces.
The city council will need to grant a second round of approvals for the project to go ahead, which should happen in the coming weeks. The developer, listed as New Shidai Development, bought the property in 2018 for $9.2 million, according to the county assessor's office. The project has been in the works since at least 2014.
In recent years, the plans have undergone several design changes at the request of local residents. One house was removed to allow more open space, more guest parking spaces were added, and some houses planned to have three stories were reduced to two stories.
Council members said they also heard from residents concerned about construction disruptions, noting the rebuilding of homes that took several years after the 2010 pipeline explosion – which leveled more than 30 homes within a block .
"I don't want to downplay their concerns," Council Member Michael Salazar said. "It's a project that has a lot of benefits for both this community and the city as a whole."
Several residents spoke in favor of the project at the June 28 council meeting.
Additionally, under the city's Affordable Housing Ordinance, four homes will have to be sold at below-market prices, with restrictions on deeds for at least 45 years. Three of the houses should be affordable for families earning less than the county median income and one house should be affordable for a family earning less than 80% of the median income.
As part of the development agreement, New Shidai will also contribute $400,000 to the city's general fund, money that could be used for the planned improvement of the intersection of Glenview Drive and San Bruno Avenue. The intersection is currently a two-way stop, but a four-way stop and crosswalks at each corner are expected to be added. City staff noted that the addition of traffic lights had been considered but determined not to be necessary.
Providing access to the subdivision, a relatively narrow street 22 feet wide will be built and will connect to Glenview Drive at three points. It will not allow curbside parking and sidewalks will only be on one side of the road, although guest parking areas totaling 19 spaces will be included in three locations, bringing the total number of spaces parking lot for the development with 135 spaces.
Vice Mayor Linda Mason applauded the plentiful parking, which she said was becoming "increasingly rare" in new projects. City rules require two spaces per residence.
The area is largely surrounded by neighborhoods of single-family homes. Across Glenview Drive is vacant land owned by Caltrans, and across San Bruno Avenue is a Lunardi grocery store. Kitty-corner on the site is a gas station.
A gas station was removed from the site in 2003. On the northernmost part of the land is an abandoned church, which will be removed. In 2006, a 16-unit townhouse proposal won city approval for part of the site, but plans were scrapped amid the 2008 financial crisis.
Due to the proximity to the forested area of ​​the canyon, homes will need to be equipped with sprinkler systems and fire resistant building materials. A 30 foot "defensible" area between the canyon and homes will also be included to reduce the chance of a fire spreading through the canyon.
The neighborhood should include a common area with picnic tables, grills and benches. As with the roads through the housing estate, the areas would be privately owned and maintained by the homeowners association.