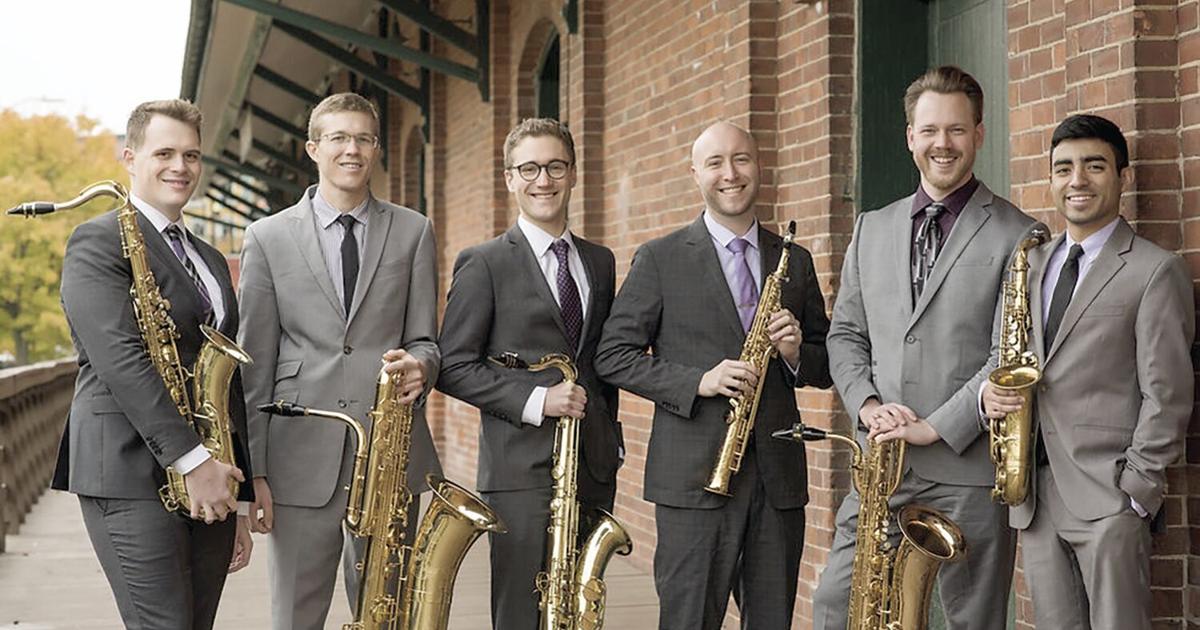 Review: Moanin' Frog Has Sax Appeal | Entertainment
Before seeing The Moanin' Frogs, I must confess to having reservations about listening to six saxophones simultaneously, without accompaniment. Wouldn't six saxes be five too many? However, I was terribly wrong.
My fear of many horns blaring loudly on me, while simultaneously blinding me with their reflection, was dispelled the moment they played their first note.
The Kelowna Community Concert Association performed this unique and entertaining saxophone sextet at the Kelowna Community Theater on Saturday night, and they did not disappoint.
The Moanin' Frogs is made up of highly accomplished musicians, all classically trained university professors in the field.
The sextet includes Edward Goodman (soprano sax), Gabriel Pique (alto sax), Jeff Siegfried (tenor sax), Jonathan Hulting-Cohen (tenor sax), Jeffrey Leung (baritone sax) and Lucas Hopkins (bass sax).
The evening began with Wedding Dance from Hasseneh by Jacques Press, a strong choice that set the tone for the evening. The bold decision to jump straight into the room without an intro was effective, catching (and holding) my attention. Their technical skills, musicianship and cohesion as a band were immediately evident, with dramatic dynamic shifts and clean cuts to boot.
After that, three different rags were played, displaying some of their tightest and cleanest games as a group. The next song, Malagueña by Cuban composer Ernesto Lecuona, was a majestic and polished rendition, one of the highlights of the evening.
Boots Randolph's iconic Yakety Sax, played by Siegfried, demonstrated the liveliness of the instrument and the musicians.
The second half started with more classic fare, with a nice version of Danny Boy halfway through the set. The six members joined for an a capella verse, demonstrating their impressive ability to sing together.
For the penultimate piece, Hulting-Cohen offered us a superb interpretation of Bohemian Rhapsody, a dynamic and melodious solo.
Every few songs, a different member of the band introduced upcoming selections and gave us a bit of history, which was endearing, illuminating and often humorous. Most memorable is their story of how the airline lost their bass saxophone en route to Kelowna, leaving them without one of today's rarest instruments.
While alto and tenor saxophones are nearly ubiquitous, finding a bass saxophone at the last minute is no small feat.
Local student Harmon Jardine graciously lent his bass saxophone (with the help of esteemed music teacher Craig Thomson), an act that was much appreciated by the band. Not only were thanks made public, but they went so far as to film the show for Jardine, who was unable to attend.
While the Hopkins bass saxophone is modern, the loaner model dates from 1921 and the fingerings have since changed. As a result, he only had a few hours to relearn finger placement. Rapidly. While a whole audience is watching.
Fortunately, Hopkins wrote his thesis on bass saxophone exploration and is credited with essentially writing the textbook on it. He gave a flawless performance and apart from having to readjust the 25-pound instrument around his neck occasionally – which is often played on a stand – he gave no sign that it was new to him.
Despite the stress of the missing instrument (and therefore the loss of valuable rehearsal time), the band performed beautifully. With a wonderfully varied program, they kept it mostly light and playful, often employing humor and simple choreography.
Each member was exceptional in their own right, brilliant in their solo moments. Their use of these instruments resulted in an incredibly happy, clean and balanced sound – a sound to be envied by anyone who has ever attempted to perform in a band.
Thanks to KCCA and Betty Skilbeck for their persistence in bringing The Moanin' Frogs, as this group has been rescheduled multiple times due to the pandemic. It was a fun and awesome show – one I would see again. It turns out that six saxophones really are better than one.
Lyndsey Wong, MD, is a local singer and actor.