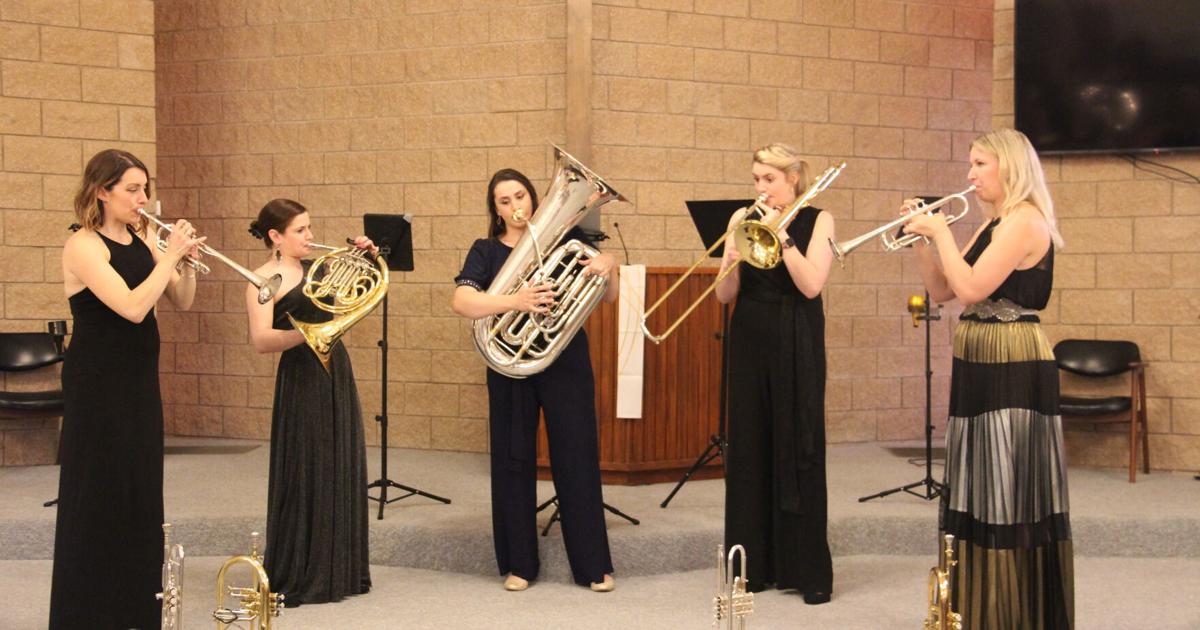 Ridgecrest Chamber Music Society Announces 2022-2023 Season: Six Concerts | Culture & Leisure
The Ridgecrest Chamber Music Society has announced its offerings for the upcoming six-concert 2022-2023 season. Like last year, all concerts are scheduled to be in-person experiences, but RCMS says the band will continue to adhere to all CDC guidelines.
The upcoming season features a mix of artists new to Ridgecrest as well as several bands that are always enthusiastically received.
Premiering on Sunday, October 2 at 4 p.m., the Schumann Ensemble will present a diverse program of pieces by American composers Arthur Foote and Michael White, Ludwig van Beethoven and Charles Martin Loeffler representing the Classical, Romantic and 20th century periods.
As many will remember, Aubree Oliverson and Vijay Venkatesh were greeted with enthusiasm last year. On Sunday, November 13 at 4 p.m., Aubree and Vijay return with Artis LA featuring Aubree Oliverson with Vijay Venkatesh and others. This season, they will offer selections from Ludwig van Beethoven (Piano Trio in D major, Op. 70 n°1 "Ghost"), Franz Schubert (Fantasy in F minor D.940) and Johannes Brahms (Hungarian Dances and Concerto for violin in D major). Major Op. 77) with violin, two pianos and a cello. RCMS is happy to welcome Aubree and Vijay and look forward to meeting the rest of the Artis LA ensemble.
On Sunday, December 11 at 4 p.m., Carbe and Durand return with a program of originals inspired by Latin music and rock, pop and blues arrangements as well as some Christmas classics. The RCMS is pleased to present this wonderful program full of variety, harmony and brilliance — a great offer to end the year and start the holiday season.
On Saturday, February 25 at 4 p.m., the ever-popular Neave Piano Trio will kick off 2023 with a varied program including Four Folk Songs by Gabriela Lena Frank, Five Melodies for Piano Trio, Op. 59 No.1 by Samuel Coleridge-Taylor, Piano Trio on Irish Folk Songs by Frank Martin and Piano Trio in G minor, Op. 15 by Smetana. Neave is said to embody the musical values ​​of RCMS patrons so well, according to the band.
Unlike the usual venue used by RCMS, on Saturday, March 18, the Seraph Brass Quintet, drawing from the ranks of America's finest female brass players, will perform at Ridgecrest United Methodist Church. This location was chosen to ensure that participants fully benefit from the acoustic advantages of each selection. Seraph will play selections from Mozart, Verdi, Rossini, Monti, Clara Schumann and more.
The closing of the 2022-2023 season on Saturday April 22 at 7:30 p.m. will be the Felici Piano Trio. RCMS is so happy to welcome them back as they present Wolfgang Amadeus Mozart's Piano Trio in G major K. 564, Paul Schoenfield's Café Music and Franz Schubert's Piano Trio in E flat major, D.929 – for a perfect end to the concert season.
The Ridgecrest Chamber Music Society is fortunate to bring musicians and programs of this caliber to the Ridgecrest community and is especially grateful to the artists who, as before, will present curtailed educational programs to the local student population at no cost to students.
Additionally, in coordination with the High Desert Music Teachers Association, the Felici Trio will conduct a student performance evaluation on Saturday, April 22. Everyone involved is thrilled to offer this enriching experience to young people in our community.
Of particular note, with the exception of Seraph Brass Quintet, all other concerts will be performed at Ridgecrest Presbyterian Church, 633 Los Flores Avenue in Ridgecrest. Ridgecrest United Methodist Church at 639 North Norma, Ridgecrest will be the venue for the Seraph Brass Quintet concert.
"As we look forward to the season ahead, The Ridgecrest Chamber Music Society wishes to extend it thanks to the many dedicated patrons who continue to support the mission to bring beautiful and inspiring music to the Ridgecrest area," the society states.