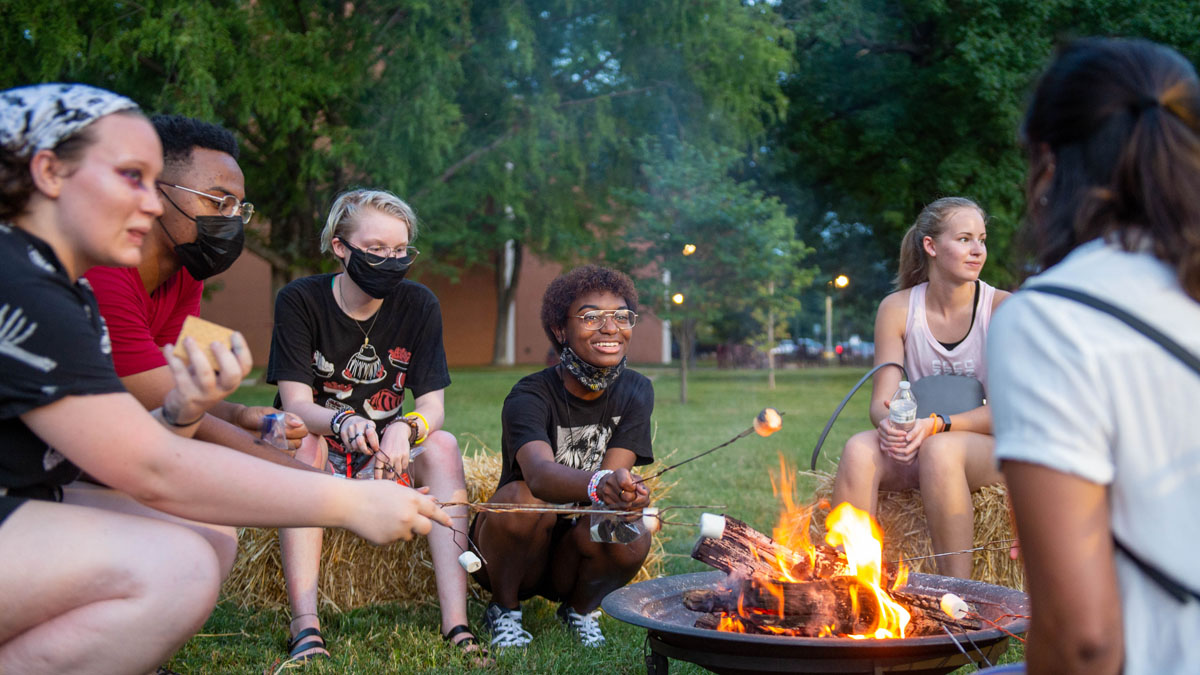 SIU welcomes returning students to campus and announces upcoming events
August 10, 2022
SIU welcomes returning students to campus and announces upcoming events
CARBONDALE, Illinois – Southern Illinois University Carbondale will roll out the brown carpet to welcome new and returning students to campus in grand Saluki style with a host of special activities during Saluki Startup and Welcome Weeks.
Students move into campus August 18-19, with classes beginning August 22. Preparations have been underway for months to ensure a smooth transition for students to their new campus away from home. Check the schedule online, which is constantly updated as activities are added. Students can also keep up to date with what's going on by downloading the Saluki Superfan app, their portal to keep an eye on student life throughout the year.
Dawg Days helps create a successful transition
SIU's Dawg Days New Student Retreat, scheduled for August 15-18 at the Touch of Nature Outdoor Education Center, is an action-packed week. Organized and led by students, it is designed to help their new student peers make a successful transition to university life.
Participants learn about Saluki's traditions, services and support system while networking and participating in fun activities including battleship games in canoes, dodgeball with tape, kayaking, hiking, rock climbing, canoeing, themed social evenings, a costume party and much more. . They will also be in contact with campus administrators, faculty, and staff, as well as each other.
Connecting with Saluki Startup
Creating a Saluki family connection is the goal of Saluki Startup, scheduled for the first few days of the semester. During special activities from August 18 to 21, the university will help returning and new students get to know each other and the campus.
A recent and popular addition to Saluki Startup is Light up the Lake, scheduled for 7-9 p.m. on August 18, as the boat dock will be glowing all evening. Campus Lake/Becker Pavilion will come alive with glow-in-the-dark games and activities, slacklining, a rock climbing wall, DJ, giveaways, snacks, a pottery wheel and other fun experiences from Saluki.
A resource fair provides information on what is available and how to connect with campus departments or units as well as community organizations. 11 a.m. to 12:30 p.m. on August 19, in the ballroom D of the student center. Kicking off the Saluki startup at 6:30 p.m. on August 19 at Saluki Stadium is a giant pep rally, complete with a class photo for new students. Then the action moves to the Student Recreation Center for Late Nite at the Rec, with volleyball, swimming, basketball, and a host of other activities from 9-11 p.m.
The Student Center is the place to be at 7 p.m. on August 20 for the popular Dawg's Night Out student festival as attendees enjoy arts and crafts, inflatables, games, food and assorted merriment .
A favorite tradition, Chancellor's Welcome Fest, will take place from 1 to 3 p.m. on August 21, with a barbecue, DJ, climbing wall, yard and watermelon games, giveaways, and the chance to get acquainted. with campus leaders, faculty, and staff.
There are also meet and greet events sponsored by many colleges and groups and various other activities throughout the early days of classes. Find the full schedule of Saluki Startup events at wow.siu.edu/saluki-startup. For more information on any of the events, email [email protected] or call 618-453-1000.
Welcome everyone with events galore
At SIU, the "welcoming" vibe continues with a variety of diverse activities for five weeks of welcoming, or WOW, as it's known on campus. Fall schedule highlights include some very special guests you'll want to see.
The SIU will be celebrating Diversity Week during this time. Juan Manual "John" Quiñones, ABC News correspondent/reporter and longtime host of "What Would You Do?" will speak at the August 29 kick-off. The August 29-September 1 Diversity Commemoration will also feature a discussion. military culture, a presentation on disability support and accessibility, a jazz ensemble, a celebration of Women's Equality Day and a jazz and hip-hop seminar, mural painting, SAFE Zone and DACA training and more. The full program will be available online once finalized.
You can also "Meet Kevin and Oscar from 'The Office'" in the Student Center Ballrooms at 6 p.m. on September 22. Oscar Martinez and Kevin Malone, played by Oscar Nuñez and Brian Baumgartner, will share their time on the NBC Emmy-winning series "The Office." Students and the general public are invited to attend the free presentation; no ticket is required and admission is on a first-come basis. A book signing will follow, and a few lucky guests will have the opportunity to meet the couple at a reception after the moderated event.
Other welcome week activities include open houses, engagement fair, movies, job fair, bonfire, barbecue, workshops, student organization events and a free family carnival at the West Gymnasium of the Student Recreation Center from 10 a.m. to noon on August 27. with a bouncy house, games, snacks and more. Aimed at non-traditional families, the event is designed to help them learn about campus and the community and connect with resources and other people.
Welcoming Weeks will culminate with Saluki Family Weekend, Sept. 23-25, featuring a craft sale, Greek Sing and other activities, including Football Salukis welcoming North Dakota to a grill action.
Visit wow.siu.edu for the full event schedule, which is subject to change based on weather and other factors.
__________________________________________________________________
Media Advisory
Reporters, photographers and press crews are invited to cover many activities from the SIU Dawg Days New Student Retreat, Saluki Startup and Welcome Weeks.
Good times to capture good stories, photography and video during Dawg Days, taking place August 17-18 at the Touch of Nature Outdoor Education Center, include:
The Saluki Welcome Fest, 4:30 p.m. August 15, featuring the SIU Spirit Team and other entertainment along with various guest speakers including Tena Bennett, Assistant Vice Chancellor for Auxiliary Enterprise; Jennifer Jones-Hall, Dean of Students; and Jeffery T. Burgin Jr., vice chancellor for student affairs.
Participants will alternate between various active games, 9am-12pm August 16.
New students will enjoy a costume party at 9 p.m. Aug. 17.
All activities take place at Camp 2. For more information or to arrange a visit to Touch of Nature at another time, contact Brian Croft at 618-453-1121 or [email protected]
You can also find great story, photography and video opportunities on the SIU campus at many Saluki Startups and WOWs, including:
Moving in, which begins 18 for new students and continuing August 19 for returning students. For more information, visit housing.siu.edu/move-in/. For more details, contact Jim Hunsaker, Senior Associate Director of Operations for University Housing

,

at 618-453-1067, 618-201-2211 (cell) or [email protected]
Light up the lake, 7-9pm August 18Becker Pavilion, Campus Lake.
Saluki launch event, 6:30-8:00 p.m. August 19Saluki Stadium.
Late at night at the Rec, 9-11 p.m., Student recreation center.
Dawg's party, 7-11 p.m. August 20, Student Center. Creative hobbies, games, inflatable structures.
Chancellor's Welcome Festival, 1-3pm August 21Shryock Lawn, climbing wall, yard and watermelon games, and more.
Commitment Fair, 5-7 p.m. August 25, Place Faner. Students can find out what's happening on campus, find out about campus resources and registered student organizations as well as community organizations when they meet other Salukis. Contact [email protected] or 618-453-5714.
family carnival, 10am-12pm August 27Student recreation center.
diversity week, 29-Sept.1. The full program will be posted once finalized.
"Meet Kevin and Oscar from 'The Office'" 6 p.m. September 22Student Center Ballrooms.
The full schedule of Welcome Weeks events is available at wow.siu.edu. For more information, contact Jennifer Jones-Hall, Dean of Students, at [email protected] or 618-453-4846.