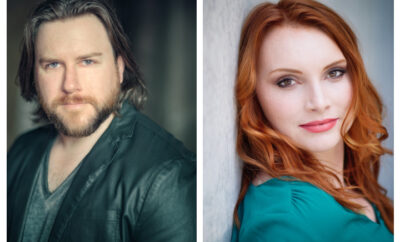 Texas Master Chorale presents "The Christmas Story" on December 17
HOUSTON, TX – Texas Master Chorale will perform a concert of holiday favorites in "The Christmas Story" on Saturday, December 17.
The concert will feature Noel and Davia Bouley in selections from Handel's Messiahplus favorite Christmas carols and other songs of the season.
Noel Bouley, son of Texas Master Chorale founder and artistic director Brad Bouley, has lived and performed in Germany for a decade. This season he makes his British operatic debut as Scarpia in the new English National Opera production Tosca directed by Christof Loy. His roles with the Deutsche Oper Berlin have included Amonasro in AidaSharpless in Lady Butterflygive in Das Rheingoldand Bietrolf in Tannhauseramong many others.
Advertising
Noel's wife, Davia, has performed with opera companies, music festivals and concerts throughout the United States and Europe, including Cincinnati Opera, Indianapolis Opera , Opera Amarillo, Aspen Music Festival, Berliner Philharmonie, Festspielhaus Baden-Baden and Deutsche Oper Berlin. . She will open the 2022/2023 season with a return to the Deutsche Oper Berlin as Dritte Dame in Die Zauberflote and a concert recital in Berlin that includes songs by Schumann, Brahms and Wagner.
The Texas Master Chorale's Christmas concert, "The Christmas Story," will be at 7:30 p.m. on Saturday, December 17 at John Wesley United Methodist Church, 5830 Bermuda Dunes Drive in Houston, 77069. Tickets are $20; students are free with a school ID card
Tickets can be purchased online at TexasMasterChorale.org, through the box office at (281) 440-4850 or at the door. The concerts are generously sponsored by Houston Methodist Willowbrook Hospital and the Texas Commission on the Arts.
Founded in 1986, Texas Master Chorale is a mixed choral ensemble of 100 auditioned singers who perform a variety of choral masterpieces including classical, contemporary, sacred and secular.
The choir is directed by Brad Bouley, founder and artistic director. Bouley was director of choirs at Tomball High School for 20 years and director of fine arts at Tomball ISD for 15 years until his retirement. He was one of four people to receive the 2018 Texas Choral Excellence Award, presented by the Texas Choral Directors Association.
To learn more, please visit texasmasterchorale.org.
Advertising