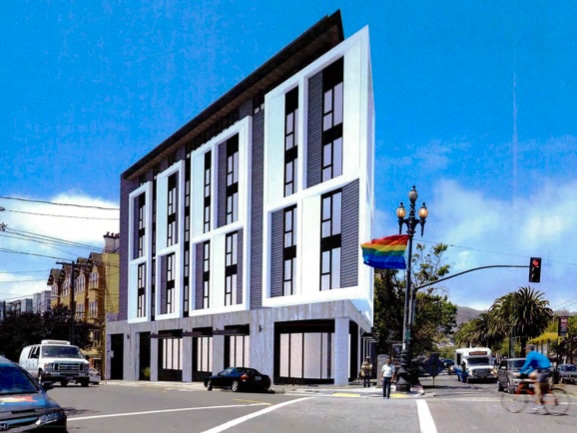 The Castro Retail Estate office is to be demolished and replaced by
Nearly six years after receiving approval, a former real estate office at 2201 Market St. (in Sanchez) will be demolished and replaced with a six-story mixed-use building.
Fences have recently been erected around the triangular property which was the old Muscat Real Estate, indicating that demolition work could begin soon. Hoodline contacted project developer Polaris Pacific for a timeline but received no response.
In its place, a 65-foot-tall mixed-use building with 14 market-priced condominiums will be built. The building will contain approximately 2,650 square feet of retail space on the ground floor, underground parking for six vehicles and 14 Class 1 bicycle parking spaces.
Hoodline reported for the first time on the project conceived by Edmonds and Lee Architects, Inc. in 2014. Longtime Castro residents will recall that Starbucks offered to take over the corner location in 2012, but those plans were ultimately rejected by SF Planning.
The two-story building at 2201 Market St. is to be demolished. | Photo: Steven Bracco/Hoodline
SF planning approved the project in November 2016, after a discretionary review filed by the Duboce Triangle Neighborhood Association (DTNA) has been removed. DTNA and the project developers have agreed to a memorandum of understanding on four key issues.
The problem for DTNA was a proposed design that included a corner overhang. DTNA said in its discretionary review application that "an unenclosed corner at ground level would invite marking, transients, and present a safety concern, as it visually blocks the space."
Polaris Pacific partner Chris Foley has agreed to fence off the area in question. Foley did not respond to Hoodline's request for comment.
DTNA's second point of contention was over the 12% below market price units, which would equate to two of its 14 units if built on site.
DTNA has asked Polaris to provide the two mandated affordable housing units on site, or at the very least, in the neighborhood. "The number of affordable housing units is gone in the neighborhood," DTNA Chairman Gary Weiss said in 2016. "We want those two units in place."
Planning spokeswoman Gina Simi explained that since the development only had 14 units in total, the project was subject to 12% affordable units on-site. "Increased below market rate requirements only apply to projects of 25 or more units," Simi wrote.

Image: Edmonds and Lee Architects, Inc.
Polaris will either have to build the units on site, build them at another site in San Francisco, or choose to pay the city's replacement fee, which is used to develop affordable housing in the city.
Dan Sider of SF Planning tells Hoodline that Polaris paid affordable housing costs of $741,358.01. "This strongly suggests that the developer is paying in full," Sider said.
"In order to be 100% certain that they are not doing a combination of fees and on/offsite, we should look for the physical permit and the plans and the associated application package which I believe is currently somewhere goes deep in the bowels of DBI," Sider added.
Hoodline contacted the Building Inspection Department for comment.

Photo: Steven Bracco/Hoodline
Polaris also agreed to split the large commercial space on the ground floor into two smaller spaces to attract business. The developer also agreed to allow all tenants access to the roof, unlike previous renderings, which only provided roof access to the building's penthouses.
Public records indicate the subdivision will cost approximately $5.6 million to build. A demolition permit was approved in October 2014 and construction costs are estimated at $35,000.
Since its issuance, the demolition permit has been extended five times for a total amount of $1,386. The permit will expire on March 27, 2023. The notes read "this is the last extension".
In 2019, an awning that spanned the building's parking lot that had fallen into disrepair was removed at an estimated cost of $6,000.

A canopy over the parking area was removed in 2019. | Photo: Steven Bracco/Hoodline
The project joins a handful of residential developments proposed or already completed along the Upper Market corridor.
Across the street at 2200 Market St., now an arcade bar and restaurant Detour, a five-story, 22-unit mixed-use residential building was built in 2012. In 2016, The Duboce made its debut at 181 Sanchez (in Market).
Additionally, a 44-unit condominium building at 2238 Market Street by the Prado Group Inc. was completed earlier this year.
In the Market and Church area, a 30-unit complex at 2135 Market Street has been proposed in the former Old Bible Church. A seven-story, 24-unit mixed-use building has been proposed on the former site of Sparky's Diner at 240-250 Church Street.
At 2140 Market St., popular dive bar Lucky 13 closed in 2020, making way for a five-story, 28-unit apartment building project that has yet to begin construction.
Earlier this year, a seven-story, 29-unit mixed-use condominium was proposed at 2051 Market St., formerly the Eros Bathhouse.
The controversial seven-story, 60-unit building of the former Home Restaurant at 2100 Market Street opened in 2019.
Hoodline readers may recall that probe, a San Francisco-based startup specializing in furnished apartment rentals, and real estate developer Brian Spiers, have been criticized for assigning the 52 units at the building's market price to medium-term one-month rentals. or more. Eight of the units were set aside as below market rate (BMR) apartments.