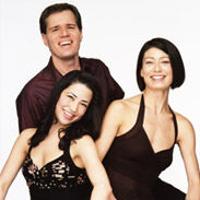 Trio Intersection to perform at Cheyenne | Culture & Leisure
[ad_1]
The Cheyenne Concert Association will present INTERSECTION TRIO on Monday, October 25e at 7:00 p.m. in the Auditorium of the Lycée Central. They will also do a Master Class with instrumental students from Cheyenne earlier today. This internationally renowned New York touring trio of violinists, cellists and pianists offers a wonderful mix of classical, jazz, Latin, Broadway / film music, new vital commissions and the group's original compositions and arrangements.
Soul expression, instrumental virtuosity, playful jokes – these are the hallmarks of an INTERSECTION event, in which the realms of concert and popular music are perfectly interwoven. With its versatility, engaging stage manner and unique blend of trio, duo and solo formats, INTERSECTION has captured a large international fan base touring Asia, Europe and the United States.
Violinist Laura Frautschi performs regularly as a soloist and chamber musician in the United States and Asia, and frequently collaborates with living American composers such as Lee Hyla and Augusta Read Thomas. She studied applied mathematics at Harvard College and violin interpretation at Julliard School. Ms. Frautschi has recently performed at the Metropolitan Museum of Art, Moab and St. Barts Music Festivals, among others, and is principal violin of the NYC Opera Orchestra.
Cellist Kristina Cooper has been hailed by the NY Times as "a sensational concert" and as "a breathtaking virtuoso" by the LA Times. Passionate about contemporary music, she has performed as a soloist, recitalist and chamber musician in the Americas, Europe and Asia, with recent appearances in Prague, Osaka, Jerusalem, San Salvador, Toronto and at the World's Fair. She has participated in numerous festivals including The Aspen Music Festival, La Jolla Summerfest, Spoleto Festival USA, Angel Fire Music Festival and Chamber Music Northwest. Ms Cooper studied at the Juilliard School (BM, MM and DMA) and plays a 1786 William Forster cello.
Grammy-nominated pianist John Novacek regularly tours America, Europe and Asia as solo recitalist, chamber musician and concerto soloist. Venues have included the Kennedy Center, Avery Fisher Hall, Hollywood Bowl, and many more. He has also performed in many festivals such as Lucerne, Seattle, Wolf Trap, SummerFest La Jolla, and won first prizes in many piano competitions. Novcek has performed with artists such as Yo-Yo Ma, Joshua Bell, and Leila Josefowicz, and his arrangements have been performed by many, including the Pacific Symphony, Millinnium, the Harrington String Quartet, and the Three Tenors. He has been a featured artist on numerous television shows including Tonight Show and Entertainment Tonight.
The particularity of this trio is to make the most of their varied backgrounds in shows that harmoniously merge the traditional and the surprising, the premeditated and the improvised, and of course their easy verbal interaction with each other and with the public. An evening with INTERSECTION is a virtual collaboration between artists and the public.
Tickets for October 25e Performances are $ 5 for students, $ 20 for adults / seniors, and $ 50 for an entire family of four or more, and are available from Niemann and Sons Music, via [email protected] by contacting Mary at 307 -214-7076, or at the door on the day of the performance. Season tickets for this event and four other Cheyenne Concert Association events are still available at significant savings over regular ticket prices via www.cheyenneconcert.org
[ad_2]